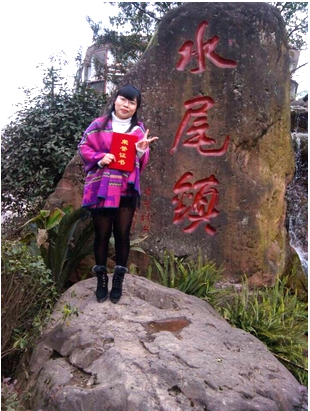 Chen Yanrong, 32, received the 2015 Bing Xin Children's Literature Award from Luzhou in southwest China's Sichuan Province. [scol.com.cn]
Chen Yanrong, 32, from Luzhou in southwest China's Sichuan Province, recently received a big surprise. She won the 2015 Bing Xin Children's Literature Award for her novel Voice of Zuo'er, becoming the first female writer from her city to claim the award.
The Bing Xin Children's Literature Award was established in 1990 and is divided into novel, prose, fairy tale and infant literature. The award is named after famed writer Bing Xin (1900-1999) whose works were mainly written for young readers. The award is regarded as one of the four most celebrated children's literature awards in China.
A graduate of Xuyong Normal College, Chen originally intended to go back to her hometown to be a teacher but instead she followed her parents to a foreign trade company in south China's Guangdong Province to work as a Chinese-Japanese translator. She has persisted in writing since college.
By chance, she encountered an old classmate named Fu Bin, who worked in east China's Zhejiang Province. They fell in love and tied the knot in 2007.
Chen often reads her poems aloud to her husband. She has also produced many stories about her husband's hometown. Later she became a member of the writing association associated with her husband's county.
In 2012, Chen and her husband took their young daughter back to Sichuan. They opened a store operating businesses related to flowers, manicures, silver jewelry and perfume. The store was the only source of income for the whole family.
Chen did not give up studying and writing even in the hardest time of her life. "We did business during the day and I could only squeeze time out to read and write during the night," said Chen.
Chen has two other occupations. She works as a teacher of classic poetry at Shuiwei Middle School and a teacher of writing at a training school. "I have long been aspiring to teach in a rural area. I'm now studying Chinese language and literature at Northeast Normal University and sharing my interest in ancient poetry and writing with the children. It's very meaningful."
Chen started writing Voice of Zuo'er in early 2015. The novel, which has more than 10,000 characters, was based on her memory of her childhood years in Panzhihua, a prefecture-level city with rich natural resources in Sichuan Province.
(Source: newssc.org/Translated and edited by Women of China)