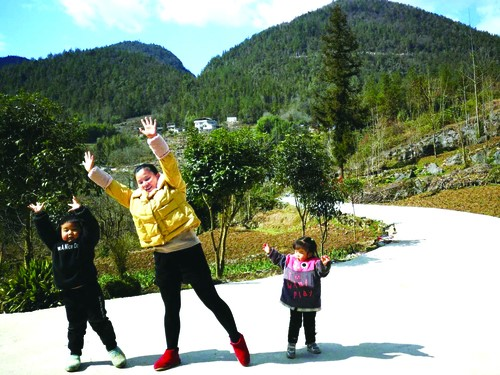 Deng Ailing, a prosecutor, together with her kids makes a video of a set of specially-designed physical exercises in a village of Lichuan City, Central China's Hubei Province, to help children better protect themselves. [China Women's News]
Students in elementary and secondary schools in Guanghan City, Southwest China's Sichuan Province, enjoy an online course that help them better protect themselves through a set of physical movements.
The course is offered by women prosecutors once a week.
Gu Junting, one of the prosecutors, said that due to the novel coronavirus (COVID-19) outbreak, they cannot lead the students to do the exercise on campus as they had since 2019, so they made videos at home to teach them online.
The videos show the women prosecutors demonstrating the exercises with their kids.
In 2019, the prosecutors in the department for juvenile prosecution under the Guanghan People's Procuratorate created the exercises and brought it to the campus to increase children and teenagers' awareness of self-protection.
As people are encouraged to stay home for COVID-19 prevention and control, students' classes have changed from offline to online.
Ran Xiaoyan, head of the department for juvenile prosecution, suggested that her colleagues could popularize legal knowledge among students with the help of the Internet.
But a new problem arose — some women prosecutors were in their hometown and couldn't work together. Therefore, they used mobile phones to record the videos.
Yang Xue said her daughter was attracted by the cheerful music and easy-to-understand lyrics and then wanted to join in. So did another three women prosecutors' kids.
Deng Ailing, Yang's colleague, spent her Spring Festival holiday with her family in a village of Lichuan City, Central China's Hubei Province. She made the video with her children, saying that she looks forward to seeing the students again and teaching them in the playground.
Liu Min, another prosecutor, said it offered a precious opportunity for her to accompany her son while recording the video for students.
Though her son could not quite follow the movements, she still hoped their effort could help more families enhance parent-child relationships.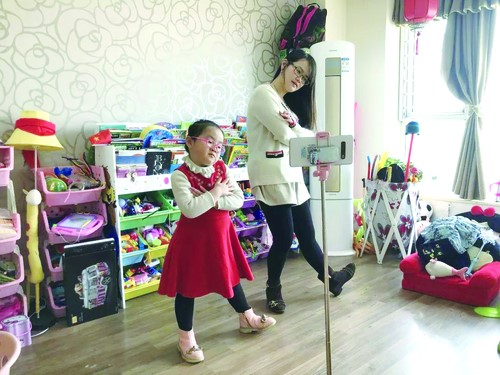 Yang Xue, a prosecutor, demonstrates a set of specially-designed physical exercises to raise children's awareness of self-protection with her daughter at home. [China Women's News]
(Source: China Women's News/Translated and edited by Women of China)