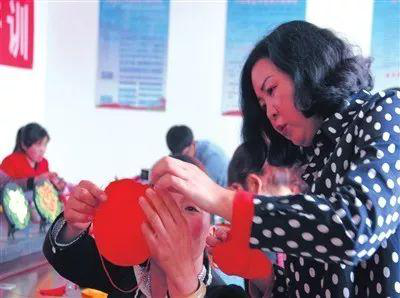 File photo: Guo Jing teaches a woman embroidery. [Women's Federation of Gansu Province]
"On the second day of the Lunar New Year, we began to produce facial masks. Now, more than 100 people are working overtime to produce 30,000 masks every day. These masks will be handed over to the government for unified deployment," said Guo Jing, a craftsperson of hand knitting who has led local women to escape poverty.
Guo is in charge of a workshop of poverty alleviation for women in Kangle County, Longyuan City, Northwest China's Gansu Province. She is also one of the winners of provincial March 8th Red-banner Holder title, which is given to outstanding women every year by the Women's Federation of Gansu Province.
Since the epidemic outbreak, Guo has been working at the workshop without any rest. "I am a Party member and the person in charge of the workshop so that I should stand out to take my responsibility," she said.
Her two workshops have manufactured 130,000 masks so far, which will be provided to the epidemic-stricken areas in Kangle to relieve the urgent need for masks.
Not only in Guo's workshops, but also in many areas of the province, such as Linxia Hui Autonomous Prefecture and Gannan Tibetan Autonomous Prefecture, women's federations have organized local handy women to manufacture masks.
Knowing that the Tibetan Hospital in Xiahe County is short of staff to make epidemic prevention medical packages, the Women's Federation of Xiahe County mobilized local handy women and women residents to produce the medical packages and relieve the shortage.
"As a Party member and a team leader of the handy women, I should make my contribution to the fight against the epidemic," said Guo Xiaoxia, a resident from Xiahe County.
(Source: China Women's News/Translated and edited by Women of China)