Fang Ji, a nurse with the Second People's Hospital of Hefei, stands in front of a window of her dormitory to find her home in a neighboring building of her workplace when the night shift is over on February 3. [Xinhua]
A female ICU nurse with the Second People's Hospital of Hefei City in East China's Anhui Province, who has been preoccupied with medical treatment of patients confirmed with the novel coronavirus pneumonia since the onset of the outbreak, has been leaving her two children with their grandparents at home.
Fang Ji, 34, is a member of the hospital's emergency response team. During the Spring Festival holiday, she told her children that she had to stay at her post to fight against the novel coronavirus and couldn't come back for an unknown period.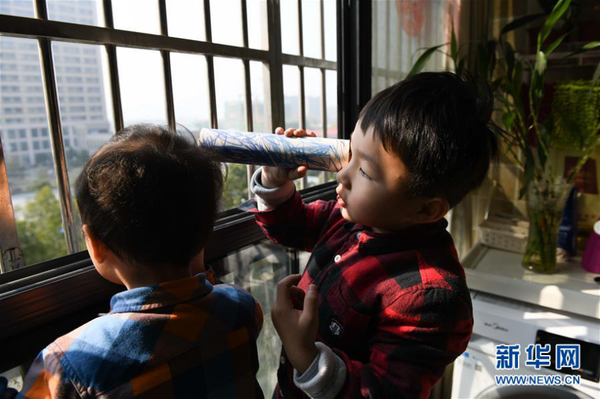 Fang's two children stand on the balcony of their home on February 3 to find their mother in the building opposite. [Xinhua]
The elder boy, who is only 4, replied that he and his younger brother needed her at home since their father had been away from home for a while on a business trip.
Without any choice, Fang explained to them that they could come to the balcony of their home and find her in the opposite building when they miss her. In fact, their home is located just adjacent to the hospital.
Moreover, Fang told a white lie to them by saying that there is a "magnifier" to help her see them through the window from the workplace.
Since then, the two children have often happily stood on the balcony and tried to make themselves visible to their mother in the hospital through her "magnifier."
Meanwhile, Fang and her colleagues have worked 24-hour shifts in the arduous battle against the novel coronavirus epidemic.
In a recent interview, Fang pledged that she will stick to her workplace and fight together with virus-affected patients until victory in the battle against the novel coronavirus is achieved.
Fang went on to say that she finds time to check the conditions of her two children at home through an Internet camera on her mobile phone during a break because her parents do not know how to make a video call with her through WeChat or other similar mobile apps.
Fang's two children stand on the balcony of their home on February 3 to find their mother in the building opposite. [Xinhua]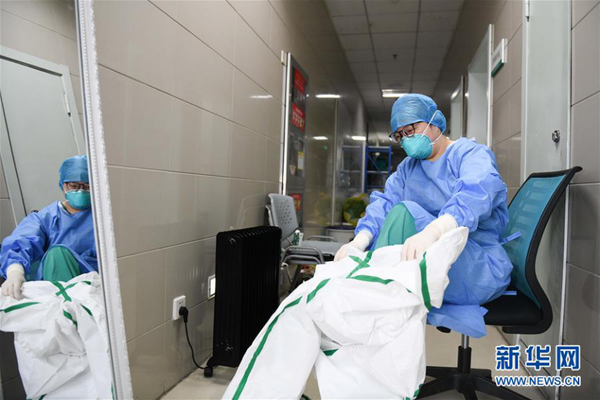 Fang Ji dons her protective suit before entering the isolation ward on February 6. [Xinhua]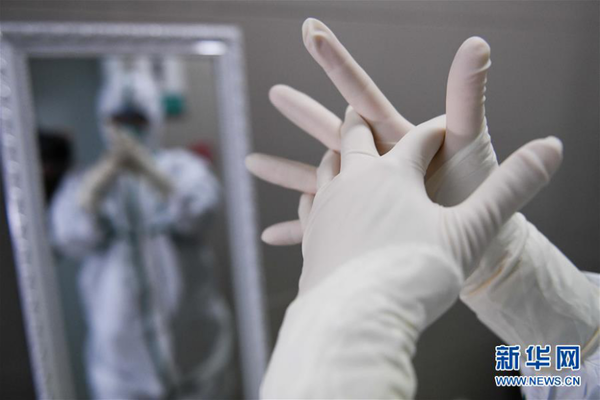 Fang Ji prepares for work in the isolation ward on February 6. [Xinhua]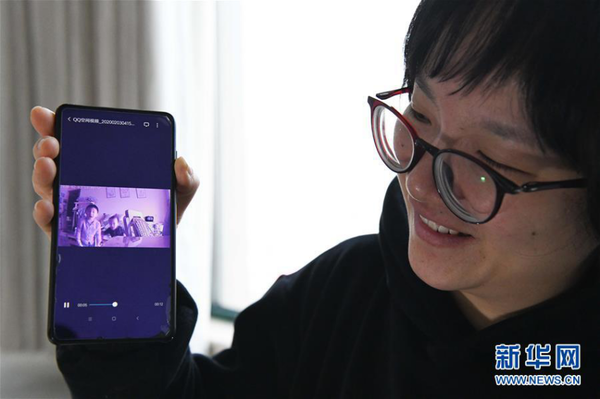 Fang Ji views a short video of her two children on her mobile phone at home after a night shift on February 3. [Xinhua]
(Source: Xinhua/Translated and edited by Women of China)