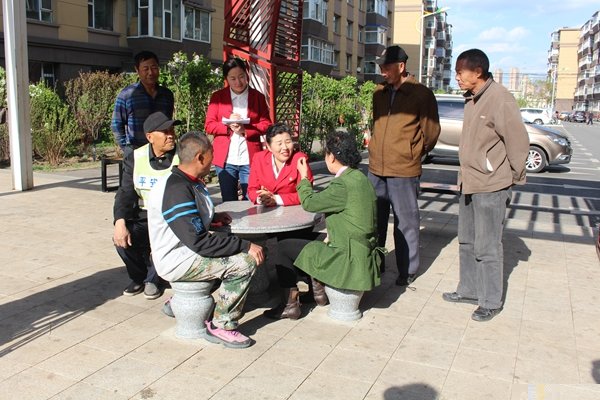 Wu Yaqin talks with the locals in Changshan Huayuan Community in Changchun, capital of Northeast China's Jilin Province. [For Women of China]
During the past two decades, she has led the cadres of the community's neighborhood committee in administering the community, and in improving its environment. Given their efforts, the community, whose environment was once dreadful, has evolved into a "garden-like residential zone," and it has been named a National Harmonious Residential Zone. Who is she? Wu Yaqin, secretary of the Party (Communist Party of China) committee of Changshan Huayuan, a community in Changchun, capital of Northeast China's Jilin Province.
Wu began working in the community in 1995. As the saying goes, "a new broom sweeps clean." Wu, then the newly appointed director of Changshan Huayuan's neighborhood committee, adopted several measures to give the community a new look.
Immediately after she assumed the position, Wu led the community's residents in building a road (in the zone). She also made great efforts in improving the community's infrastructure. Her efforts included implementing several projects, including the provision of heat and the establishment of a square, in which residents exercise.
In 2007, Wu set up Dandelion Children's Home. The home is a blessing for parents (including many migrant workers), who cannot leave work early enough to look after their children. Every day, university students, who are volunteers, take the children to the home after the kids finish school. The young people provide companionship and academic instruction.
Many residents have said Wu, who has treated them like they were her relatives, has always been ready to help them. Wu over the years has provided financial support to more than 20 impoverished children, so they could have enough money to cover their tuition. She has also helped more than 50 children, from poverty-stricken families, apply for subsidies from local government.
In 2011, Wu established a senior residents' service center (in the community), whose workers provide various services (including cutting the elders' hair and providing legal aid and psychological counseling to them), to make it easier for the elders to live in the community.
The community in 2015 took Wu's advice and opened a restaurant, from which elderly residents, especially those who live alone, can buy inexpensive, delicious foods. That saves them the trouble of cooking for themselves.
Given Wu and the committee workers' efforts to improve the residents' understanding of the law, no resident has committed a crime in recent years. In addition, Changshan Huayuan has become a "zero-domestic violence community" (in which residents do not commit violence against their family members). Also, no children, who are from poverty-stricken families, have been forced to discontinue their studies.
Wu starts working around 6:30 am every day. She sticks a note (on the bulletin board in the community) that contains her telephone number, so residents can call her whenever they need to seek her help.
Wu cannot remember how many times she has had a hard time handling trifles during the past two decades. During each election of the community's neighborhood committee, all residents have elected her to serve as the director of the committee. That has bolstered her confidence in overcoming the difficulties in her work.
"We community workers should work hard to live up to the hope of the residents, who support us. Only when we treat the residents like they are our relatives, and try our best to help them solve difficulties in their lives will they make concerted efforts (with us) to build our community into a better place," says Wu.
(Women of China)