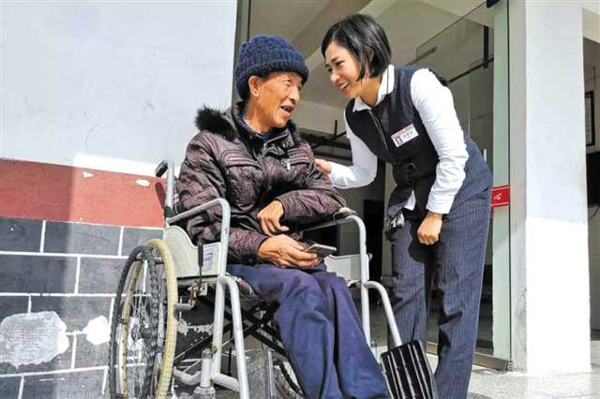 Li Chunrong talks with a disabled man at the nursing center. [Chongqing Daily]
Li Chunrong is the president of a disabled people's nursing center in Caotang Town, Fengjie County, in southwest China's Chongqing Municipality. For many years, Li has been assisting the weak and caring for the elderly with patience, love and responsibility at the nursing center.
At the end of 2015, Li was recruited as an attendant working in the nursing center. Li learned how to take care of the elderly people carefully. After a period of training, she adapted to the work. Among the 10-plus colleagues who were recruited by the center together with Li, only three stayed and worked there.
Li had a clear idea about this career and she was determined to stick with her choice because of one case that happened when she just started to work as an attendant.
Xu Dengxiong was terminally ill and was sent to the center by his family members. Since Xu was physical paralyzed and completely bedridden, Li had to turn him over every two hours to stop him getting bedsores. She also needed to wash Xu's body and feed him a liquid diet with a syringe. Li accompanied the old man with love and care and spent the last moments of his life with him. The old man showed his gratitude by writing "好人" (Chinese words that means good person in English) on Li's palm at the last moment.
From then on, Li started to consider how to use scientific management to bring quality services to disadvantaged people and to build the center into the second home of the disabled people in Fengjie County.
The center established strict standards in staff management, food and hygiene, and it periodically carried out activities to make the disabled people's life more colorful.
The local government of Fengjie County initiated concentrated nursing services for disabled people from impoverished families. The government invested 26 million yuan (US $3.75 million) to establish three nursing centers for disabled people. The county has invested 35 million yuan (US $5.05 million) to the renovation of the center where Li works, so it can provide nursing services to more than 605 disabled people.
The construction of nursing institutions for the disabled was included into the 13th Five Year Plan of Fengjie County. The concentrated nursing service system for the disabled people has been praised by the Chongqing Municipality Government and even the State Council.
Li Chunrong combs hair for a disabled person in the nursing center. [Xinhua]
Because of her outstanding efforts in caring for the disabled, Li Chunrong has won a number of honorary titles, including "Advanced Individual in Poverty Alleviation of Chongqing" and the March 8th Red-banner Holder of Fengjie County. [Xinhua]
Disabled people watch TV in the nursing center. [Xinhua]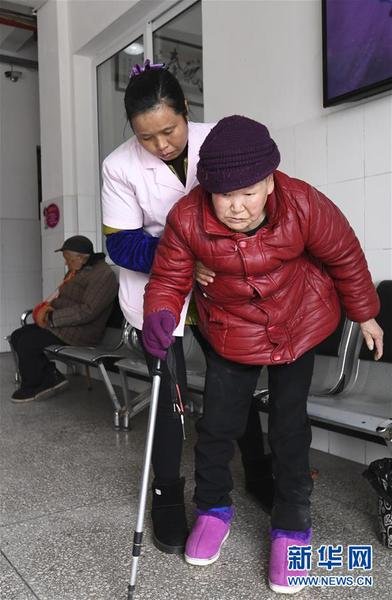 An attendant at the nursing center helps a disabled person to walk. [Xinhua]
(Source: Xinhua and Chongqing Daily/Translated and edited by Women of China)