Yang Chenglan, a university graduate from the Dong ethnic group, returns home to Zaima Town in Rongjiang County in the Qiandongnan Miao and Dong Autonomous Prefecture to make traditional cloth. [Xinhua]
Having given up making traditional Dong cloth for nearly 20 years, Wang Yangying, 76, is considering returning to her old job, after being inspired by a group of young ethnic Dong people.
"Many Dong people learned how to weave and dye traditional cloth from an early age," Wang says.
"I used to make clothes myself. However, machine-made products quickly replaced handmade cloth. Besides, we had to do farm work every day, so most of us gave up the tradition."
Wang never expected she would be dusting off these old techniques until she met Yang Chenglan, a young woman who'd returned home to Zaima town in Rongjiang County in the Qiandongnan Miao and Dong Autonomous Prefecture to develop a startup making and selling traditional Dong cloth.
"She even exports the cloth overseas, which gave me the idea of starting to make Dong cloth again and to promote this ancient craft to out-of-towners," Wang adds.
Yang worked for schools and training institutions for over seven years after graduating from university in Guizhou Province in 2009. The 33-year-old decided to return to her hometown out of concern for the large number of "leftover" elderly and child residents there and the need to keep the local traditional culture alive.
"I wanted to protect traditional Dong weaving skills so that outsiders can appreciate our culture and learn more about homespun Dong cloth," she says.
Yang returned to the town in 2016 where she rented a room to use as a workshop. She persuaded some local women to join her enterprise, while her husband took up the role of promoting and selling of their textiles online.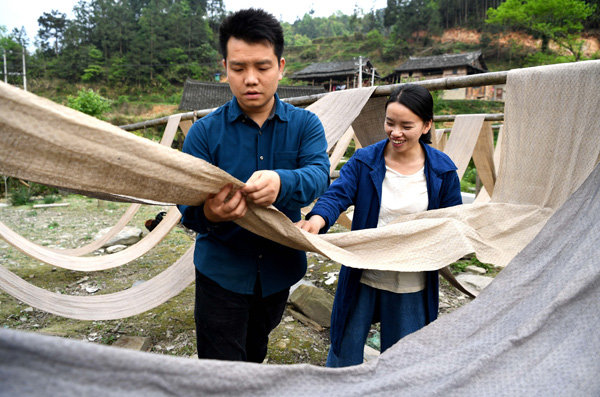 Yang and her husband, Wu Fangjun, check the cloth they've produced. [Xinhua]
"It wasn't easy in the beginning, as local people didn't believe that traditional textiles could be turned into marketable products. Since the weaving process is so elaborate and time-consuming, very few women wanted to join us," Yang says.
Instead of chemical dyes, Yang uses the leaves from more than a dozen plants, including indigo, persimmon, safflower, maple and waxberry. These methods were passed down to her by her grandmothers.
Yang has enjoyed an increasing number of orders, as well as support from local women, as the unique craftsmanship and dyeing methods have gradually grown in popularity with consumers. Many rural residents, young and old, who've mastered the traditional weaving and dyeing skills from neighboring counties have joined the Dong-cloth industry.
The traditional cloth Yang makes sells for between 20 yuan ($2.85) and 400 yuan per meter, depending on its intricacy. In 2018, her sales soared to 2 million yuan, and many of her products were exported to Japan and Australia.
Yang Qiuyun was a migrant worker in Zhejiang Province and Guangdong Province before 2016. Since then, the 27-year-old has learned to weave and dye from working with Yang Chenglan. Thanks to the workshop, she doesn't have to leave her family to find a job and can earn around 4,000 yuan per month.
"What struck me most was that rural areas need young people with knowledge to lead locals to better lives," Yang Qiuyun says.
Since the country has been pushing ahead its rural revitalization strategy in recent years, an increasing number of talented youngsters have been returning to their rural hometowns, pooling their wisdom and energizing local economies.
(Source: Xinhua)