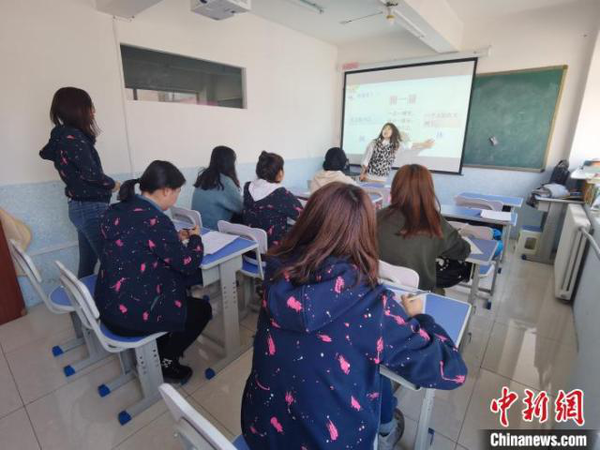 Teachers of the special education center share their teaching methods during their spare time. [chinanews.com]
When a group of children at Fanchen Anxing Special Education Center play games and recite ancient poems, Liu Xujuan pays close attention to them and offers words of encouragement.
Liu, who was born in 1995, is a teacher at the special education center in Lanzhou, capital city of Northwest China's Gansu Province, which is open to mentally disabled students aged 2-18.
The non-profit private center, established in 2017, offers rehabilitation training for those with autism, bradygenesis, learning disabilities and cerebral palsy.
It also provides their parents with psychological assistance and offers a charitable platform for enterprises, individuals and university student volunteers.
Liu joined the school after graduating from university in 2017.
"Special education teachers most love their jobs. Then, we need to have patience with students and have the habit of keeping studying," says Liu. "We need to guide the children to face up to their disabilities. We tell them that there are no perfect children in the world, and they should live happy lives with confidence."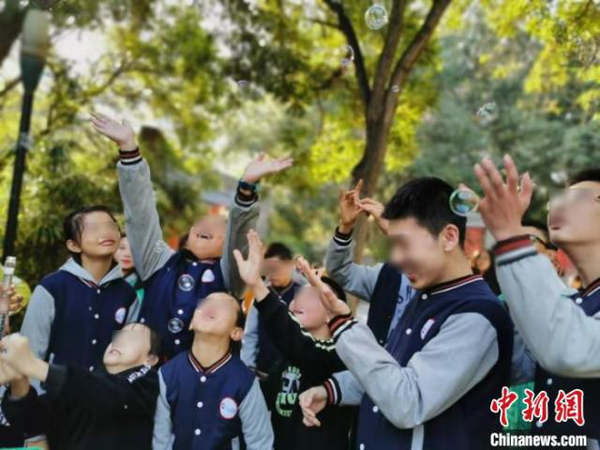 Students at the special education center in Lanzhou, capital city of Northwest China's Gansu Province [Chinanews.com]
However, at the beginning, Liu sometimes felt frustrated and depressed. She taught the kids repeatedly only to find that they did not make any progress. She was also sorry for failing to help the children with autism express their emotions.
Liu said she sometimes feels confused about teaching the older children. On the one hand, she wants to teach them as much as possible since they have to step into society eventually; on the other hand, she does not want them growing up that fast. She hopes to have more time to teach them more knowledge.
Therefore, she seeks good ideas during the regular meeting with her colleagues in the evening. They discuss how to solve the teaching problems that they have encountered. The brainstorming and encouraging words help Liu conquer many challenges and difficulties.
In addition, teachers and volunteers pay home visits regularly, hoping to know more about the students' personalities and record every progress made by the students.
They also hope to learn the parents' expectations of their children and their problems and living conditions, Liu said, adding that they hope to help the parents reduce their economic and psychological pressures.
A fast food restaurant called Xingdao No. 27, also a vocational training base for the youth with mental disabilities opened in May 2018. Some students, who perform well at the training center, will receive pre-employment training in the restaurant. The tutors develop positions in the restaurant for the students according to their abilities. Liu said the center has already helped two students get jobs at the restaurant.
"The strength of an individual is limited, but the power of a group of people is infinite," Liu said, adding that she hopes her students can be fully involved in society in the future.
(Source: Chinanews.com/ Translated and edited by Women of China)