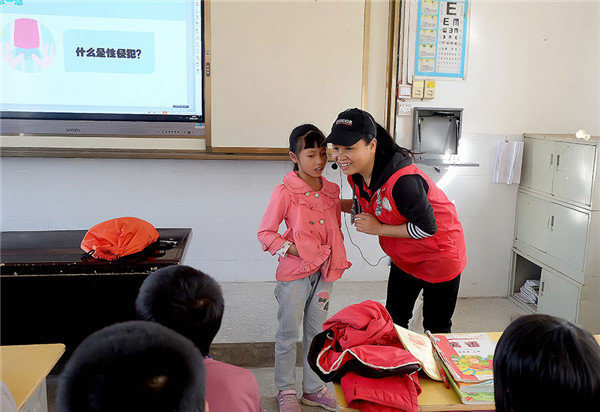 Huang Aiqun interacts with a girl in a simulated scenario during a class aiming to prevent children from falling victims of sexual assault. [China Daily]
Entrepreneur finds a more fulfilling path in timely intervention and finding solutions for trauma victims.
Huang Aiqun clearly remembers the first time she saw the scar on the girl's wrist. Huang, a social worker, had been notified by the local women's federation that the girl needed her attention. She visited 12-year-old Zhenzhen (a pseudonym) at her home in Southern China, in May 2018. Huang immediately saw the pink slash on the wrist, the result of a self-inflicted knife wound.
Zhenzhen's desperation and anguish was obvious. She had been repeatedly sexually abused by her mother's lover, who was a married man. He was found guilty of sexual abuse and sentenced to 10 years in jail in 2018. Her mother was given a three-year sentence.
The girl, whose father passed away when she was two years old, was abused by the offender three times. Her mother prevented her from reporting the abuse to the police. But Zhenzhen managed to alert the authorities.
"My heart ached with pity for her," Huang recalled, but as a professional social worker, the 47-year-old said she had to adjust her feelings and provide the girl with professional assistance.
Left-behind children in rural areas are particularly vulnerable to sexual abuse due to inadequate sex education and poor guidelines for children on how to respond to such situations.
Last year, 317 cases of sexual assault on children were reported by the media, with more than 750 children abused, the youngest being only three years old, according to an NGO named Girls' Protecting. Nearly 70 percent of the culprits are relatives or from a close circle of people, such as teachers or neighbors.
However, there is also a shortfall in the ability to protect children in need. Resources allocated are still limited, lacking systematic preventive measures and institutional arrangements, according to UNICEF.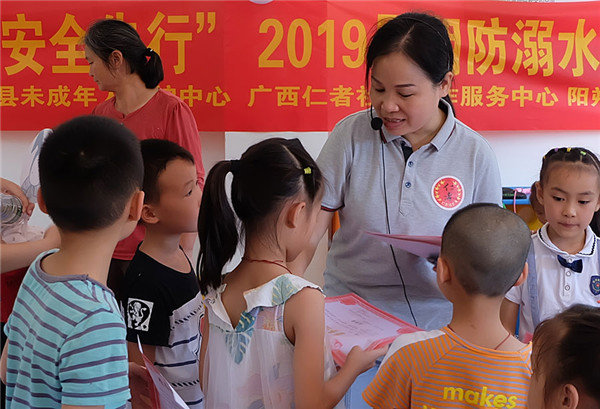 Huang Aiqun, a social worker, participates in a campaign on preventing drowning during summertime for children in Yangshuo County, Guangxi Zhuang Autonomous Region. [China Daily]
In addition, there is a severe shortage of child protection professionals in China.
Huang runs a social work center in Guilin, Guangxi Zhuang Autonomous Region, mainly focusing on the protection of children in the 4 to 16 age bracket, including orphans, autistic and left-behind children.
Huang has been following Zhenzhen's case for more than a year. Her job entails issuing an initial assessment of the child, and counseling recommendations.
"We talk about her studies and various other things to help shift attention from the terrible memories. Our objective is to help her imagine a bright future and be the kind of person she wants to be," Huang said.
Huang also invited Zhenzhen to attend volunteer and outdoor activities, she said. With the help of Huang's guidance, Zhenzhen has become optimistic about life and is active in various kinds of activities.
Childhood trauma can result in social problems like crime and drug usage in later life, which requires timely intervention and assistance, she said.
Zhou Lixin, a volunteer at Huang's social service center, said that social work is not an easy career path due to low pay and lack of prestige. But this is changing, although slowly.
"Huang is patient with a caring heart for children in need, and also pays attention to protecting them, and in return, they show her respect and gratitude", she said.
Huang started her child protection work in 2005 as a volunteer. She set up a group to call on people from all walks of life to help left-behind children and organize annual visits to them during the Chinese New Year holiday.
Although most of the left-behind children are introverted and too shy to express their feelings, they would write letters to Huang and other sponsors sharing simple wishes about the future. This is a vital process as it allows children to envision a future where they are in control of their destiny. "I could feel their yearning for love and care, a simple hug, a candy, a school bag, even a new dress and some companionship, can make them very happy. These are children who quickly appreciate any sign of warmth and tenderness and respond immediately to gestures like care."
Huang's volunteer work has not only comforted the children, but has also given her a sense of fulfillment and achievement.
"When engaging in public welfare activities in my spare time, I feel more fulfilled than in my work as an IT entrepreneur," Huang said.
In 2015, Huang decided to quit her IT job and worked with her team to register a social work center.
"A center will integrate resources, regulate activities and attract more professionals like social workers, legal assistance workers and psychological consultants," she said.
"We work to keep children in need of help safe from serious harm, help them return to school, provide training to their parents and offer professional advice for the government in policy-making," Huang said.
Children's social services require the participation of social work centers. They play a vital part in the child protection network as they have access to children in vulnerable situations and can listen to the concerns of children, she said. They can also collect and collate data and organize follow-up visits.
"We hope to lead the children to help themselves through our guidance."
In the West, social services play a vital role in child protection. In China, the importance and need for social workers is just being recognized by society. The government has pledged to train up to 1.45 million social workers by 2020.
Social work focuses on fixing problems in society, and acts as a required role in social governance, Huang said, adding that more understanding of its role and better support from the government and the public are needed.
(Source:China Daily)