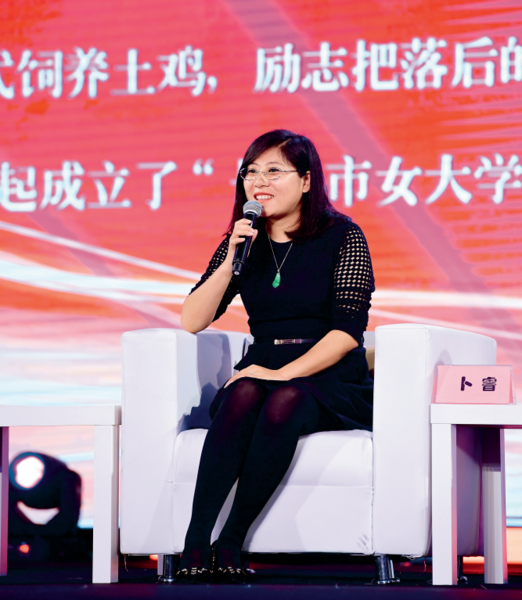 Bu Rui attends an activity. [Women of China]
Unlike most female university graduates, who wanted to find jobs in enterprises or institutions in large cities, Bu Rui returned to her home village — Hujiacun, in Changchun, capital of Northeast China's Jilin Province — to sell her homemade bean curd shortly after she graduated from the School of Electronic Information Engineering, under Changchun University, in 2009.
When she recalls the many sweet, and bitter, experiences in starting and running her business, Bu says she believes all of her efforts have been worthwhile. "I'm the first woman (in my clan), who has received higher education. All of my relatives were proud of me, while I studied in the university. However, when I told them I would return home to make bean curd, to inherit my family's business, most of them turned a cold shoulder to me," Bu says.
Although her relatives opposed her starting the business, Bu remembered her original dream and followed her heart. She used traditional methods to produce bean curd, in an effort to inherit the traditional cultural heritage and promote development of the traditional craft. She also organized some parent-child activities (among visitors to the village), during which she taught the parents and their kids how to make bean curd.
Healthy Products
Bu makes bean curd. [Women of China]
During the first month after she returned home in 2009, Bu lost 10 kilograms of body weight. Why? She turned her house into a plant, in which she and her family members made bean curd at night. Bu got up at 3 a.m. every day, and then carried heavy loads of bean curd to the market to sell the product. Despite her tight schedule, she managed to find time to read books and teach herself about the skills of producing bean products. Given Bu and her family's continuous efforts to improve the quality of their bean curd, their business boomed.
As the old Chinese saying goes, "Those who work hard will be rewarded." Bu's efforts to develop her business have paid off, as the small plant has evolved into a medium-sized food company — Jilin Changrui Foods Co., Ltd. The company's bean products have sold well in many large supermarkets in Changchun. Bu has registered a brand name — Bu Family's Bean Curd — for her company's products. Changrui is the only enterprise (in Changchun), whose handmade bean products have been granted the National QS (quality standard) Certification.
Breeding Poultry
Several years ago, Bu happened to see an old species of black pigs in a remote mountainous village in Changchun. She bought 13 piglets and took them home. Within a short time, Leaders of Erdao (a district in Changchun)'s Animal Husbandry Bureau sent an agricultural expert to help Bu improve her pigs-raising skills.
Bu used the mixture of corn and bean debris (from her company) to feed the pigs. As a result, demand for the tender, delicious pork exceeded supply. To increase the pigs' production, Bu established a pig farm in the village.
Like raising pigs, Bu bred chicken in an environmentally friendly way. She grew corn to feed the chicken and she used fermented chicken manure to fertilize the crops. As a result, she increased her family's income.
Helping Villagers, Graduates Get Rich
Bu has been doing her best to help rural residents get rich. Her company allocates money to the village's breeding cooperative, which provides chemical fertilizer, poultry and feed to the villagers. The cooperative collects the poultry produced by the villagers, and then processes the products before the company sells them either online and off-line. The products have been selling well across the country.
While she participated in activities hosted by Changchun Women's Federation several years ago, Bu got to know many self-made women entrepreneurs. In April 2015, she established Changchun Female University Graduates' Business Alliance. She hoped the organization would provide a platform for the young women to share their experiences in developing their businesses.
During the past few years, Bu has arranged for the alliance's members to study business management in different regions in the country. She has also invited entrepreneurs to provide advice to the alliance's members on how they can develop their enterprises. Given the sound development of the alliance, many women have achieved success by developing agricultural products in their hometowns.
"One has to experience numerous difficulties and setbacks when he/ she starts and develops his/her business," says Bu. "Making persevering efforts to turn your dream into reality is painful, but joyful … Despite the difficulties and hardships that lie ahead, I'll carry on. I believe Changrui will have a better tomorrow."
(Women of China)