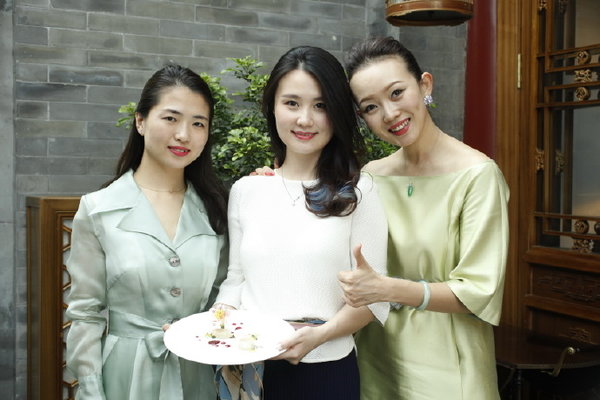 Li Meiyu (L) is posing with a dessert chef. [Weibo account of Pinor]
After dropping out of a business program to pursue her love of wine, Li Meiyu has now become the first female Advanced Sommelier on the Chinese mainland, Li Yingxue reports.
When Li Meiyu found her first job as a sommelier in China in 2009, she was appointed to do many things, including work as a hostess-but none really leverage to her wine expertise.
Now as the first female Advanced Sommelier on the Chinese mainland, Li is opening her own studio and working as a consultant to hotels and restaurants around Beijing.
Her latest commission was to develop a wine list for the Oyster Talks restaurant in the capital, matching nine types of oysters with around 30 wines.
"It ended up being a real challenge, but pairing oysters and wine is such fun that I will continue to update the wine list with new and interesting pairings," says Li.
First step
Her journey to becoming a sommelier started when she was studying her master's degree in business management at a university in Paris. She made a visit to Burgundy and got the chance to taste 18 wines, which she immediately fell in love with.
She then searched through all of the wine-related programs she could find before she decided on a sommelier course.
"For wine making, it needs a background in chemistry and biology, which I don't have, and it's more of a behind-the-scenes technical job," Li explains. "Some of the wine tasting courses were as short as two or three months."
When she heard the word "sommelier", Li immediately researched it and found a course that covered all of her expectations for a course about wine-from the basic principles surrounding the libation, to grape planting and wine making, to winery management and food pairing.
When she phoned her father to tell him her plan to quit her studies and learn to be a sommelier instead, he asked what she would do after that-as he'd never heard of the job before.
"I said, if I learn about it properly and develop a passion for it, I'll find a job," says Li, who recalls that her father paused for a while before offering his support, sensing her determination.
Her course started in September 2009. Before starting the program, she wrote to several sommeliers in Paris to learn more about the profession. One finally agreed to meet her but warned her that the road to becoming a sommelier was a tough one.
Her journey to the top started in August of 2009 as she found her first internship in a winery, where she had to get up at 4 am to tend to the grapevines in the field, before starting work in the wine cellar during the day.
"I still remember the first glass of wine I tasted at that winery. It was Traminer that had notes of lychee and rose, which made me realize that I needed to learn everything I could about wine," says Li.
During the one-year course at the Cafa Sommelier Wine School in Bordeaux, she took up internships in wineries, cellars and restaurants.
Li interned at the Bistrot du Sommelier Paris, a restaurant owned by Philippe Faure-Brac-winner of the World's Best Sommelier award in 1992-where she learned about pairing food and wine together.
When she started the internship, Li recalls making a lot of mistakes. Each afternoon, she would read Faure-Brac's book and try to remember the step involved in serving wine and the location of each bottle of wine in the cellar.
By the end of the internship, she could serve a table of a dozen people and introduce all the wines by herself-sometimes earning her large tips from customers.
She won China's Best French Wine Sommelier Competition in 2010 and four years later, she was accredited as an Advanced Sommelier by the Court of Master Sommeliers, a title that put her just one step away from being a Master Sommelier.
New challenge
Li worked at the Park Hyatt Beijing from 2010 to 2013 before moving to London to advance her studies, where she interned at the Michelin-starred Le Gavroche and Medlar restaurants.
Returning to China in 2015, she worked as a consultant for the same hotel and a number of restaurants.
Two years ago, she was invited to create a wine list for the Sheng Yong Xing Roast Duck Restaurant, where she paired several wines of different price ranges to the roast duck, impressing food aficionados around the capital.
"Unlike French cuisine where the meat is cooked in large pieces, in Chinese cuisine the meat is usually sliced, so it needs to be paired with wines that are not too strong," Li explains.
"Many Chinese dishes are also seasoned with sugar and pair well with sweet or fruity wines."
In December, she was invited by the Oyster Talks restaurant to devise a wine list to complement their menu. She initially thought it would be an easy task, but it actually took her several months to complete her first draft of the list.
There is a saying that eating oysters "is like kissing the sea on the lips", but the flavors of oysters vary according to their habitat-from sweet or salty, to rich and mineral.
According to Simon Chan, executive chef at Oyster Talks, as well as common regional differences, oysters can offer different flavors during different seasons.
Chan can tell the flavor and origin of an oyster simply by looking at it and smelling it, so he had to explain the range of flavors in-depth to help Li better pair the wines.
"I ranked the oysters on a scale of 1 to 5 according to their taste, and discussed their flavors with Li in relation to the wine," says Chan.
According to Li, if there is one key point to consider when pairing wine with wild, natural oysters, it must be freshness-but there's a lot more to it than that.
"We could select wines from the same region as the oysters or match them with similarly flavored wine, but sometimes the opposite is true, such as in the case of mineral-flavored oysters, which work well with wine of a quite different flavor profile," she says.
After trying more than 100 types of wine, Li and Chan established a list made up of nine pairings-from fresh and crisp, to smooth and creamy, and complex and rich.
Li says it has been an interesting experience for her as her knowledge about oysters was quite limited before, so she's looking forward to continually updating the menu in different seasons.
In the future, Li aims to expand interest in wine culture across China, now that consumers are becoming more educated and more willing to try different varieties from niche wineries or wine-producing regions.
According to the International Organization of Vine and Wine, in 2018, wine consumption on the Chinese mainland reached 18 million hectoliters, making it the fifth-largest in the world.
"Consumers include more of the younger generation, and they have higher expectations about wine service, which is a good opportunity for young sommeliers to grow," says Li.
Li believes the market in China is good for sommeliers, since demand now exceeds supply.
"Young sommeliers have to learn how to be patient, as it needs at least five years to train in China, and in other countries, it might take at least 10 years," she says.
(Source: chinadaily.com.cn)