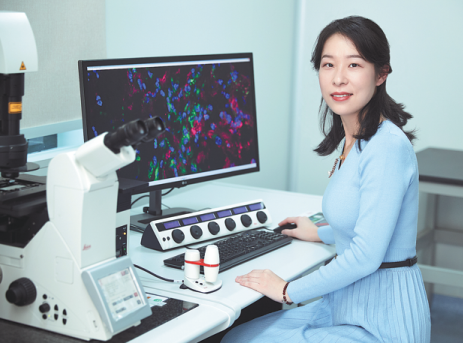 Ma Yuting, the youngest winner of this year's award, works in her office at the Suzhou Institute of Systems Medicine under the Chinese Academy of Medical Sciences.[For China Daily]
Top immunologist at the forefront of treating tumors among 10 female scientists winning recognition for their work, Li Yingxue reports.
To tumor patients, their bodies are a battlefield. In this scenario, the immune organs are the base camp and the innate immune cells are sentries and an advance force. The main force is specific immune cells, and the cell factors are the signaler and the armory. Finally, the cancer cells are the rebels. The general overseeing the campaign could be Ma Yuting and her team. They are looking for "new weapons" in this battle to help the immune system fight the tumor.
Ma, 35, is a researcher and the director of the immunology research platform at the Suzhou Institute of Systems Medicine under the Chinese Academy of Medical Sciences.
Her focus covers cellular stress responses and tumor immunogenicity as well as mental stress responses and immune regulation in diseases. She has made major findings, such as how the immune system responds during anti-cancer therapy.
On April 29, Ma was honored with the 15th China Young Women in Science Fellowship award in Beijing, together with nine other female scientists for their pursuit of academic excellence, from medicine and biology to geosciences and space science.
"I think I'm lucky to win the award as there are many excellent female scientists in China. Thanks to the direction of my research on tumor immunity, it has recently become a hot topic that helped me win the award," says Ma.
The 10 winners were selected from 224 candidates in 116 organizations nationwide.
Ma was the youngest winner this year.
More than 130 female scientists have been granted the award, organized by the All-China Women's Federation, the China Association for Science and Technology, China's National Commission for UNESCO and L'Oreal China since it was introduced 15 years ago.
Ma studied biotechnology at the College of Life Science and Technology of Huazhong University of Science and Technology from 2001 to 2004, during which she took all the elective courses and became fascinated by immunology.
Before her graduation, she turned down the opportunity to study abroad and an offer from a Fortune 500 company.
The 10 female professionals, winners of this year's China Young Women in Science Fellowship award in Beijing.[For China Daily]
She decided, instead, to prepare for an immunology exam for a master's degree at the Tongji Medical College of Huazhong University of Science and Technology.
She spent a month studying several specialized courses from scratch, including medical immunology, pathogenic biology, human anatomy histology and embryology. She used to turn the words into animated cartoons in her head to try and remember them.
She enrolled with a full scholarship in 2005 and studied under professor Gong Feili. Three years later, Ma was invited by French immunologist Laurence Zitvogel to study her doctoral degree at the Universite Paris-Sud 11 in the French capital.
She studied her postdoctoral degree at the Institut de Cancérologie Gustave Roussy from 2011 and the Universite Paris Descartes from 2013. Two years later, Ma decided to come back to China and set up her own laboratory at the Suzhou Institute of Systems Medicine.
Ma met her husband at the Huazhong University of Science and Technology in 2001, and they studied the same major under the same tutor for both their degrees. The couple moved to Paris together in 2008 and had a child in 2012.
"Maybe it's because my husband and I spend so much time discussing science during dinner that my child seems to have developed an interest in it now," says Ma.
She says she did not reduce her working hours after having a child. However, she tweaks her schedule every night to take care of the child first before returning to her work.
"I think spending time with my child is as big a responsibility as teaching students, so I balance the two things and sacrifice my leisure time," says Ma.
When Ma set up her own lab in 2015, she had to learn how to bargain with the suppliers to buy all the equipment she needed. Her team has been built up from an initial staff of three to more than a dozen researchers and students.
Her team is quite young as they are mostly postgraduate students of the post-1990 generation. Ma prefers her students to call her by her given name of Yuting directly instead of "tutor", which she thinks helps them to bond and work together better.
She also likes to make metaphors when discussing work with her students to help them better understand their research.
"If a student says he or she is doing research and has a good point but not enough evidence, I'll tell them it is like walking with a blindfold on, and they may fall into a hole," says Ma.
When her students encounter trouble in their experiments, Ma conducts the experiment beside them, and tries to find a solution together with them.
In Ma's laboratory, there are more female graduate students than males. She thinks female researchers have certain advantages over their male counterparts and are more careful with their experimental subjects.
"When handling experiments that need to be repeated over and over again, female researchers tend to be more patient. They are also more sensitive and quicker to spot potential developments," says Ma.
She recalls a time in high school, where one teacher told her that female students got poorer results than male ones, while another teacher believed Ma would do well.
"I chose to believe the latter. And I believe in the power of choice," she says.
(Source: China Daily)