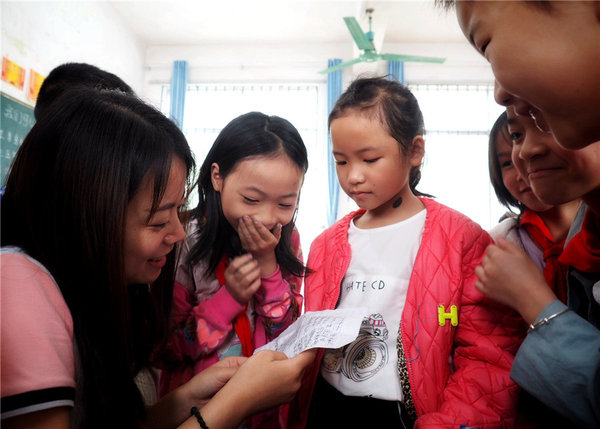 Kang Yu (L), a graduate of Renmin University of China, teaches students to write poetry at a middle school in Mangshui Township, Baoshan City, Yunnan Province. [For China Daily
]
I hope the sunshine lies only upon me, so I can feel its warmth. I am a selfish child.
I hope there is a corner of the world that can comfort me when I am sad.
I hope my mom belongs only to me, so I can enjoy the sweetness of love."
That poem was written by a middle school student in a remote mountainous town in Yunnan Province during her first poetry class. It laments her mother, who died when the girl was 5.
Kang Yu, the teacher who taught the girl how to write the poem, graduated from Renmin University of China in Beijing in 2015.
One month before her graduation, Kang, now 26, decided to move to Mangshui Township, in Yunnan's Baoshan City, and work as a teacher at a middle school. In doing so, she went against the wishes of her parents, as she had already enrolled for a master's degree at the university.
Her decision was based on a desire to provide better educational opportunities that would allow the students to leave the township and see the outside world.
However, a large number of the students did not want to study. Many were "left-behind" children, whose parents lived in large cities as migrant workers and had left their offspring in the care of their grandparents. The children often skipped school, fought each other and played video games.
To help the less-disciplined students, Kang organized an after-school study group to allow them to catch up with their peers. However, the students did not appreciate their "over-caring" new teacher.
"My own parents do not care about me, the other teachers do not care about me; who are you to tell me what to do?" one student asked Kang.
One day in autumn 2015, Kang was teaching a calligraphy class when it began to rain. All the students looked outside with great interest, so Kang decided to let them write poems about the rain and the sky.
"When I was little, I would ask my grandma what the stars were. She would tell me that people become stars when they die.
Now, my grandparents have become the brightest stars in the sky.
And I often look at the starry sky, silently, waiting for the stars to talk to me."
Kang said, "Compared with urban students, perhaps students in rural areas need a way to express their feelings and be heard more."
In response, whenever it rained, she allowed the students to write poems. Supported by the principal and other teachers, the school held eight poetry classes for students every year, two per season.
As the classes grew in popularity, Kang became the school's favorite teacher.
Every day, she brought a box to school so the students could write their problems on slips of paper, which they put in the box. Every night, Kang opened the box and tried to find ways to deal with the problems in conjunction with the students.
She received more than 2,000 slips in her two years at the school, and became close friends with many of the students.
In 2017, she finished her two-year teaching engagement at the school and returned to Beijing with the intention of studying overseas.
In China, Teachers' Day falls annually on Sept 10. On that date in 2017, Kang received a big box full of poems and letters written by students at her old school.
One read: "I want to make a wish. I hope more children can find out who they are by writing poems, just like I did."
Kang said: "It made me realize the significance of writing poems to the students. I am the one who cannot leave them, rather than the other way round."
She abandoned her plans to study overseas. Instead, she founded Enlighten our Future, a charity that teaches rural students how to write poems.
In less than two years, the organization has provided poetry classes for more than 50,000 students at 609 primary and middle schools in Yunnan, Shandong and Henan Provinces.
"Now, I go to several cities every week, trying to help more rural students learn how to write poetry. I sleep less than six hours a night and the job provides no vacations and little pay, but the happiness and satisfaction I feel is rewarding enough," Kang said.