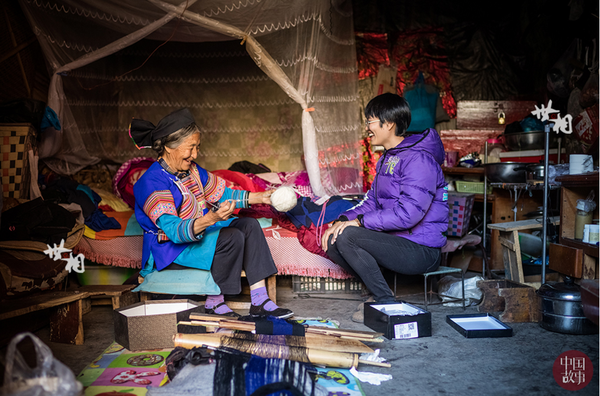 Xiaocao communicates happily with a senior who holds a ball of string. [China.org.cn]
A young entrepreneur from Chengdu, southwest China's Sichuan Province, has injected vitality into intangible cultural heritage in Daliangshan, a mountainous region in the province, over the past few years, according to a recent profile.
Xiaocao (pseudonym), 25, has promoted several traditional crafts of the Yi ethnic group as featured on the national-level intangible cultural list, such as woolen textile production and felt making through her business in Daliangshan in recent years.
She ran a felt studio in Chengdu before going to the impoverished region. Originally, she went there to learn the skills of making felt from senior craftsmen of the Yi ethnic group.
Considering the outstanding sewing skills of locals, she rented an unused folk house of about 300 square meters in the county of Huidong and established a woolen felt company, offering jobs to around 20 local women.
On the basis of drawing on the traditional skills of the Yi minority, she developed attractive objects made of woolen felt, such as hats, scarves and gloves to present the old skills through new forms.
However, the products were known to few people. Owing to inconvenient transport, it was difficult to transport the products to other places. She then thought of selling them on Taobao, China's leading e-commerce platform.
Thanks to this idea, her products have been sold to many places including overseas. Benefiting from their expanded sales channels, some of her employees have tripled their monthly income.
Her company is popular with seniors of the Yi minority. Some of them have joined her work voluntarily. They are good at twisting threads by hand, a skill also included in the national intangible cultural heritage list.
Before delivering goods, she commonly ties a bowknot outside the package with woolen threads provided by some of the seniors. She is often praised by buyers for her attention to small details.
Thanks to her business, a middle-aged woman from her company was able to travel by air for the first time in May, 2018.
"I would never have such a chance if I had not met Xiaocao. Before that, the furthest place I went is a county 50 kilometers away," said the woman.
"Any people who want to improve their living standards through their own efforts are welcome to my company," said Xiaocao.
Besides, she has shown concern for the younger generation. For example, she gave a lesson to students with hearing and speaking impairments in a local school to help them find employment after graduation.
Xiaocao makes a woolen felt hat together with a worker. [China.org.cn]
Xiaocao makes felt products together with other women. [China.org.cn]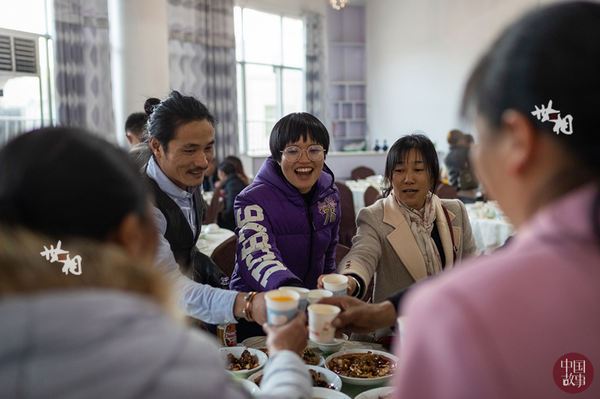 Xiaocao dines with locals. [China.org.cn]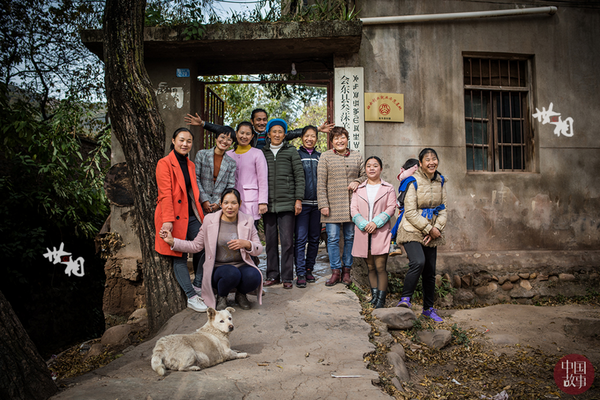 Xiaocao meets with locals in front of her company. [China.org.cn]
(Source: China.org.cn/Translated and edited by Women of China)