Li Xiaoqin and her mother-in-law pose for a photo. [Jxcn.cn]
A kindergarten teacher from Enjiang Town, Yongfeng County, in east China's Jiangxi Province, has practiced traditional Chinese virtues over the past 30 years by serving her family with her heart and soul.
Li Xiaoqin married her husband in 1989. Although they were not well-off, she was glad that she had a big family.
One year later, however, her father-in-law was diagnosed with liver disease and passed away in spite of medical treatment.
She and her husband had little money left, after spending nearly all their money on the medical treatment of her father-in-law. To make things worse, her mother-in-law broke her right leg by accident, which left her paralyzed from the waist down. From then on, Li has been shouldering the heavy family duty of looking after her mother-in-law.
Every day, she woke up early to prepare breakfast for her mother-in-law and children and send her kids to the kindergarten on time. On night duty, she would return home first to prepare dinner for her family and then rush to the kindergarten, while making sure that all these won't be affecting her own job.
Over the last 30 years, Li has led such a kind of life, with her hard work, persistence, patience, care and kind-heartedness. Instead of feeling bored or tired, Li was glad that her mother-in-law was getting better.
Li's husband worked away most of the time, so he couldn't offer his wife much help in looking after his mother. In spite of this, Li never blamed her husband.
With the increase of age, her mother-in-law had difficulty turning over at night, so Li regularly checked on her, even at night.
When her mother-in-law felt uncomfortable, she would immediately take her to hospital and when buying vegetables, she would firstly choose those favored by her mother-in-law to improve her health.
"It was my duty to take care of the elderly, who had invested lots of time and energy in our family in her earlier years. I therefore would like to take good care of her and help her lead a happy life in her twilight years," said Li.
"Sadly, my mother-in-law had a fall this May and left us forever at the age of 92," Li continued through tears.
"Li is a good-tempered and patient woman. She works hard for her family, but never has she complained about her life," said Li's elderly neighbor.
"When she is available, she engages in part-time work to improve her family's financial condition. Her children are excellent as well thankful to her care. They are polite and marvelous in their studies," Li's neighbor added.
What she has done for her family over the past 30 years fully embodies traditional Chinese virtues.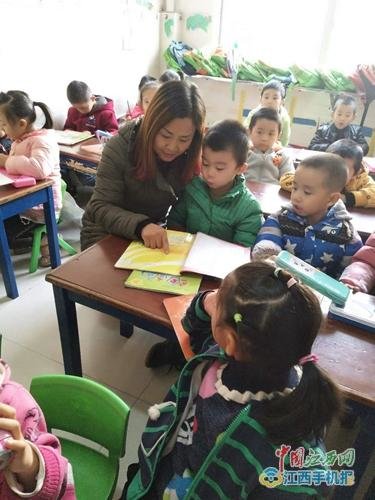 Li Xiaoqin teaches children about numbers in kindergarten. [Jxcn.cn]
Li Xiaoqin combs her mother-in-law's hair. [Jxcn.cn]

(Source: Jxcn.cn/Translated and edited by Women of China)