Qu Yuan (R) and her predecessor Zhang Guangbo [China Women's News]
Several female doctors across the country recently shared their stories with journalists to mark China's first Medical Workers' Day (August 19).
Yang Lixia
Yang Lixia is the chief physician of the Department of Obstetrics and Gynecology at the People's Hospital of Pu'er, southwest China's Yunnan Province.
Yang believes that what she does is to bring hope and happiness to more people.
When first started working, Yang faced extremely tough working conditions. For example, she helped a mother deliver a baby without even a delivery room on November 1987, a day after the occurrence of an earthquake in the area.
"Looking at mothers and newborns, exhausted as I am, my heart is filled with happiness," Yang said.
Yang's husband is also an outstanding surgeon.
Usually, there is no obvious difference in surgical department and gynecology and obstetrics in several township hospitals. So the couple often do surgery together.
As frontline clinical doctors, they often take turns to visit patients in emergency cases.
However, Yang has no regrets about her work.
"When I see patients being discharged from the hospital after they are cured by us, I feel a sense of need and recognition which makes me feel that over 30 years of perseverance and dedication is worthwhile," Yang explained.
Song Xiaoyun
Song Xiaoyun is deputy director of the Breast Diagnosis Center of Beijing Chest Hospital Affiliated to Capital Medical University.
"I have developed a good relationship with my patients to fight against diseases together, and their trust makes my life meaningful," Song said.
She confessed that though she has encountered a few unreasonable patients over the past 20 years, she is often moved by patients' unconditional trust for her.
Ye Ying
Ye Ying, 48, is the chief physician of the Affiliated Hospital of Xuzhou Medical University, east China's Jiangsu Province. She was the only female among the seventh batch of 20 Jiangsu medical aid experts recently sent to support northwest China's Xinjiang Uyghur Autonomous Region.
Naturally, Ye faces more challenges on hygiene, lifestyle and physical discomfort than her male colleagues.
She was often woken at night to deal with emergencies in the hospital, and cared for patients who had just had heart surgery.
"I've been a doctor for 27 years," Ye said.
"I kept learning to better serve patients. I left my hometown and family, without hesitation, in order to go to work in southern Xinjiang, where patients need me the most. This was what I should do as an intellectual," Ye added.
Ye also expressed her opinion towards the new occasion, "The special day is observed as a recognition of our profession and will urge us to continue to work hard."
Bai Xueqin
Bai Xueqin is a physician-in-charge at a rehabilitation hospital in Beijing.
In order to help patients recover and improve her theoretical knowledge in clinical practice, she often tests drugs and needles on herself to measure the potency, efficacy as well as the feeling of the puncture.
Bai said the establishment of Medical Workers' Day is an affirmation and compassion from society and the people for the medical workers, and she is proud of being a doctor.
Qu Yuan
"As a doctor, one should have knowledge and skills as well as humanistic feelings and artistic accomplishment," said Qu Yuan, an anesthetist from Peking University First Hospital.
Qu attended a series of public benefit activities about painless labor in Xilinhot, north China's Inner Mongolia Autonomous Region, on August 11.
She even performed painless delivery for five women at Ximeng Hospital on the day of the event, and all of the mothers delivered their babies naturally.
The activity was a successful attempt to bring epidural technology to grassroots women in remote areas.
Qu and her colleagues noticed a rise in cesarean section rates 20 years ago.
"However, for a variety of reasons, it was particularly difficult to promote epidural techniques at the time," Qu recalled.
From 2001, the total number of epidural cases in Peking University First Hospital has reached about 25,000, and the success rate is almost 100 percent.
At the same time, thanks to the efforts made by Qu and her colleagues, many large hospitals in China have promoted this method one after another.
Moreover, on the eve of the Medical Workers' Day, relevant ministries and commissions jointly issued a policy to emphasize the importance of anesthesia work.
"I hope that through the policy, the government could use economic leverage to attract more reserve talents and attract more people to join the ranks of anesthesiologists, so as to truly benefit the general public and patients," Qu said.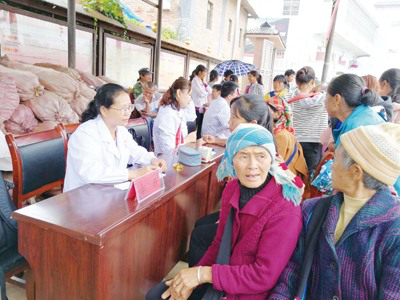 Yang Lixia (first from left) [China Women's News]
Ye Ying (second from left) treats children with congenital heart disease. [China Women's News]
(Source: China Women' News/Translated and edited by Women of China)