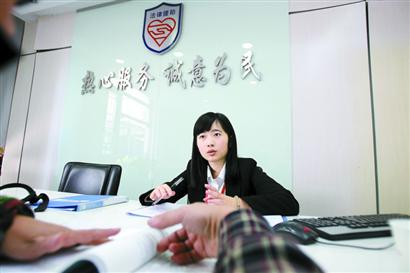 Zhang Shanshan provides service for local residents at the legal aid center of Jing'an District. [Jiefang Daily/Jiang Diwen]
In a well-ironed black uniform and with long straight hair, 28-year-old Zhang Shanshan looks much younger than her actual age. As a competent lawyer at a local law firm, she has been providing free legal assistance at least one day a week at the legal aid center of Jing'an District in east China's Shanghai Municipality.
Helping migrant workers claim their salaries, protecting the interests of those who are poverty-stricken, solving senior citizens' property issues… Zhang has provided more than 1,700 hours of free legal aid over the past five years since she became a lawyer and has been seen busy solving problems for residents at the Jing'an District's legal aid center and offices of justice in grassroots communities.
A Compassionate Lawyer
"When people look up at you full of hope, needing help, you will find that you can hardly stop [the work of providing free legal service]," Zhang said. Different from social legal cases, most of the parties involved have low family incomes or lower educational levels or are elderly people living alone, who are utterly ignorant of the law. "Once misfortune befalls them, they just lose their bearings; but for me, it is easy to help them solve the problem."
"A great many residents will come to queue up for help when Shanshan is on duty," said Xia Tianliang, vice-director of the legal aid center of the district. Among these, there are cases in which some difficulties residents are confronted with are beyond the pale of law. In other words, many problems can't be addressed through a lawsuit. "Shanshan is very warm-hearted. She takes over all the cases and always tries her best to help these people."
Offering Help Regardless of Pay
There are more than 1,000 registered lawyers in Jing'an District, of which around 30 are engaged in free legal aid. Zhang has often been asked why she chose to provide legal services without asking for payment for all these years.
"I have no ambition in choosing to become a lawyer, I just hope to help others with my knowledge, which has always been something which has made me feel quite contented."
Zhang graduated from Shanghai Jiaotong University and majored in mass communication instead of jurisprudence. During her time at college, she gradually developed a deep interest in law and chose it as a second major. She has also acquired a national intermediate psychological consultant certification later.
According to Wei Yi, her apprentice, Zhang is very patient. "Her method is putting herself in other people's positions and working out the best ways out for them. She never interrupts them." Some people looking for help can be extremely agitated with many complaints, but she just listens attentively and then explains and analyzes the situation for them with enormous patience.
Recently she has been employed as a legal counselor by several middle schools, including Wu'ai Senior High School, where she educates about juvenile delinquency cases and self-protection skills. "When they know more about laws and regulations, they will become more capable of telling right from wrong and have more social responsibility."
Zhang always wears black or grey suits at work, but in her spare time, she prefers to wear pink-colored clothes. She also indulges herself in reading and puzzles. "I need to replenish my energy, as a lot of my working days can be quite negative. I like doing Sudoku and reading detective stories. Now that I can't stop with the job, I'm excited to continue serving the public whole-heartedly."
(Source: Jiefang Daily/Translated and edited by Women of China)