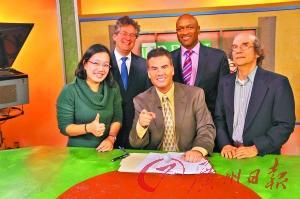 Chen Lusha (1st L, front) poses for a group photo with the host and guests of the NBC News affiliate in Boston. [Guangzhou Daily]
Chen Lusha (1st R) poses for a group photo with her interviewees while conducting an interview in Burma. [Guangzhou Daily]
The Pulitzer Journalism Prizes are widely regarded as the highest award in journalism and are an honor many American journalists fight for. Similarly, the annual Pulitzer Center international reporting fellowships are fiercely coveted by journalism students.
This year, one of the two dozen fellowships was won by Chen Lusha, a Chinese international student studying journalism at Boston University. Chen is the university's first international student to win the prize.
The fellowship recipients will report on a range of global issues from around the world and be mentored by Pulitzer Center-supported journalists and staff over the course of their projects.
Steep Learning Curve
Despite winning the prestigious fellowship, Chen was not always an outstanding student.
Early on in her studies, one of her teachers questioned whether or not she was a journalism major because she was unable to handle one of the projects which involved shooting a news program in a studio. Chen could not get a handle on it and her teammates had to shoot the program again and again. Frustrated, her teacher snapped at her and asked her sarcastically if she was a journalism major or not.
Chen was crushed, but remained determined to succeed. In her first year in the United Sates, she encountered many challenges in her work, but she also learned the meaning of professionalism. "I have to make myself a professional reporter so that I can protect myself and protect my interviewees," said Chen.
Learning Medical Knowledge
Boston University has a cooperative program with the Pulitzer Center on Crisis Reporting, an innovative award-winning non-profit journalism organization that provides two scholarships to the university's students every year.
When Chen was accepted into Boston University in 2011, she set applying for the Pulitzer Center fellowship as her study target in the second year.
In order to win the fellowship, a candidate had to have some medical knowledge and had to submit two profiles. One was a coverage plan on how international organizations provide relief to Kenya and the other was the candidate's personal document, including an interview plan, outline and what human relations can be used to help complete the interview plan.
"In 2012, I also submitted my application but failed because of my lack of medical knowledge," recalled Chen.
"All substantive problems in international aid for African and Asian regions always return to disease control and prevention, so candidates are required to acquire public health knowledge," she added.
To this end, Chen followed the university's medical freshmen for half a year to learn public health knowledge as well as international humanitarian aid programs. During that semester, Chen figured out her international reporting focus.

Volunteering for the UNICEF
Apart from medical knowledge, Chen also needed to submit two profiles. She was worried about her lack of experience, so her tutor gave her the phone number of a contact at the headquarters of the United Nations Children's Fund (UNICEF) stationed in Japan.
In turn, the contact gave Chen the phone number of the headquarters of the UNICEF in New York and encouraged her to make phone calls to ask whether they could offer her an internship opportunity.
Over the next two weeks, Chen made about 30 calls. When she eventually got through, one of the media and communications staff asked her why she wanted to do an internship there. Chen was honest and replied that she wanted to apply for the Pulitzer Center fellowship and wanted to accumulate international network resources.
Chen's straightforward answer won her an opportunity to volunteer for the UNICEF. There, she was responsible for writing documents on public relations. Her tasks put her in contact with many people at the organization, including UNICEF Executive Director Anthony Lake. Another workmate from the UNICEF who thought highly of her work recommended her to do an internship in a permanent media agency in the United Nations (UN).
There, Chen gained an opportunity to attend the 57th Session Commission on the Status of Women (CSW), which opened on March 4, 2013, and lasted two weeks. Chen reported a series of news on how women around the globe strive for their rights and interests.
The reporting opportunity also helped Chen to acquire more professional knowledge, expand her social networks and draw up her reporting plan, a requirement for applying for the Pulitzer Center fellowship.
"I worked out my plan based on my understanding of women's rights and interests. I planned to report on a Burmese bride who was sold by human traffickers in Xishuangbanna, an autonomous prefecture in southwest China's Yunnan Province. I also want to report on how Burmese women fight for their freedom," said Chen. "I knew that the UNICEF had a lot of resources in Burma that I could take advantage of to complete my reporting."
The UN's powerful database made it easy for Chen to look up relevant materials. She downloaded more than 50 pages on international aid in Kenya and pored over them to improve her reporting plan on international aid in Kenya.
Half a year of studying medical knowledge, half a year of volunteering for the UNICEF, a reporting plan with solid stories and an outline on doing international reports eventually won Chen the coveted fellowship.
The fellowship came with US$5,000 and an opportunity to train at the Pulitzer Center. In June 2013, Chen set off for Burma for three weeks to complete her reporting.
Speaking of her future development, Chen says she wants go back to Asia to work as a reporter or as a local media worker for the UN.
"I will follow any job opportunity that leads to that region. Asia and Africa will be the global focus in the next 50 years. I want to go wherever there is news," Chen concluded.
(Source: Guangzhou Daily/Translated and edited by womenofchina.cn)