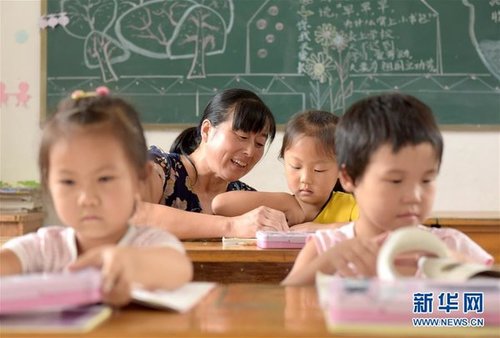 Children take class. [Xinhua]
Government should shoulder the responsibility of providing quality compulsory education rather than blaming after-school training institutions for increasing student workloads, education experts said.
China's education climate will not get better if local governments continue to view enrollment rates and exam scores as the only criteria for educational achievement, said Yang Dongping, director of the 21st Century Education Research Institute, as quoted by Caixin on Wednesday.
"All the discussion about exam-oriented education points to one ideal – to develop an education climate featuring low competition, low control and low assessment, a basic goal we failed to achieve," Yang said at an education forum held in Beijing on Monday.
A document titled Report on Academic Burden Reduction for Chinese Primary and Secondary Students 2018, which was released on the forum, pointed out education is sometimes not designed for students, but for the goals of local governments, and county heads' view on schools can impact education practices directly.
The report came after China's educational authorities earlier this year launched a campaign targeting after-school tutoring organizations in order to rid primary and secondary students of heavy workloads.
In March, four central departments, including the Ministry of Education and the Ministry of Civil Service, jointly issued a circular to call for stricter regulation of extracurricular training organizations.
The circular said "exam-oriented training" provided by after-school tutoring institutions to primary and middle school students go against the laws of education and adolescent growth and affect the normal education at public schools, putting heavy workloads on students and financial burdens on their families.
The rules prohibit after-school tutoring institutions from engaging in exam-oriented training or hiring teachers from public schools. They also banned public schools from using enrollment tests to evaluate prospective students and taking a child's extracurricular qualifications into consideration during enrollment.
As of November, more than 160,000 after-school education institutions had been rectified to stop practices such as giving lessons above normal level and exam-oriented training, according to statistics released by the Ministry of Education.
However, experts doubted whether the government's move to regulate extracurricular education institutions can achieve intended results.
"If a student doesn't go to after-school tutoring classes, he or she can't keep up with peers, thus putting heavy burdens on students and families," Gu Mingyuan, a professor with Beijing Normal University, said in the report.
Data from a survey covering 16,000 primary students and parents across the country shows 76 percent of Chinese students are waken by alarm clock or others in the morning, with one third sleeping less than eight hours each day.
The survey shows more than 60 percent of students attend extracurricular training classes.
On average a family splashes out more than 10,000 yuan a year on extracurricular tutoring, and parents spend six hours a week accompanying their children to the training sessions, according to the survey.
Gu said the pressure to gain admission to a good university is the primary motive behind the heavy workload for primary and secondary students.
He said governments and public schools, rather than private training organizations, should be responsible for cutting back on academic burdens.
Gu suggested improving compulsory education by eliminating substandard public schools and forbidding public school teachers from giving classes outside of school.
The report on academic burden reduction calls for a more positive attitude toward after-school education institutions.
Many after-school training institutions outclass their public counterparts in education research, course development and text compilation, it said.
The report said education authorities should explore new methods to cooperate with after-school education institutions to boost public education services.
(Source: China Daily)