Moviegoers read film synopses on a wall display at a cinema in Nankai district, Tianjin. [China Daily]
In the first quarter of 2018, China's box office overtook North America for the first time to become the biggest in the world. What do foreigners think of Chinese films? Readers share their opinions.
JJ-Sydney-OZ (Australia)
CCTV has several great Chinese historical drama serials such as The Great Qin Empire. I thoroughly enjoy the series and am looking forwards for the third installments. Such TV series perhaps could have English/Western language subtitles or dubbing (very difficult, with many Chinese sayings that have no equivalent in English) for western markets.
Tomahawk (US)
I live in the United States and absolutely love watching Chinese actors and actresses in movies. Seeing performances from actresses like Zhang Ziyi in the movies The Road Home, Memoirs of a Geisha, and Dangerous Liaisons are why I keep watching. I think the main problem we have here in the USA is that most of us here have not been disciplined enough in our lives to become bilingual. Or if we are, it is more common in our public school system to learn French or Spanish as a second language. Unfortunately Mandarin or Cantonese was never an option. China now has a great chance to share with the world the beauty of its people and its culture. I hope Chinese people continue to prosper, so we can all be blessed to see actors like Zhang Ziyi and Gong Li grace movie screens here in America. In the meantime, I will continue to watch with subtitles.
Aistrodositu (Germany)
My points would be: the marketing budget of US movies is likely higher than the budget of most non-US movies. English is still the lingua franca.
Information about US or British movies is readily available through sources like the British Film Institute's Sight and Sound. I find it hard to find information about Chinese movies and buy them, at least with English subtitles, at a reasonable price. Some improvements could be: more L2 speakers of Chinese, raised visibility for Chinese movies through an English publication akin to Sight and Sound that separates the wheat from the chaff, make movies available via streaming platforms more aggressively.
That said, there are a lot of Chinese movies I would not consider my cup of tea: too much magic, wuxia, etc. But that's up to the audience to decide. I don't know enough Chinese movies to say that on average their quality is much worse than standard US fare. But you don't know what you don't know.
Jkrazo (US)
As an American, I can say that Chinese movies are simply not marketed here on a widespread basis. A handful of Chinese movies may get some play in a major market, such as Los Angeles or New York, but nowhere else. In fact, most international movies do not get much attention here, I suppose, because our own entertainment industry is so vast.
Slaphead44 (UK)
I like Chinese films, but the problem is they are often not available in the UK, either on disk or via streaming services. I only get to see them on flights to Asia. Examples like River Road and To the Fore don't seemed to be picked up by distributors. The distributors seem to take the easy and lazy path of just promoting martial arts films which can often be repetitive.
GhostBuster (Expat in China)
Chinese movies are either complete imitations of already successful Western movies or have no originality in theme. The level of visual and other effects usually do not live up to expectations of audiences. Furthermore, the plot or story line is never creative, but full of too clear-cut consequences at a glance.
Craig32935 (US)
I like Chinese romance/dramas and also the fantasy/romance/dramas like Painted Skin. I prefer they have English subtitles, but that is not a deal-breaker for me. I have found that most of the acting in the dramas is very well done and I can understand the meaning just from that. The intricacies are missing, but it's still worth watching. Lust, Caution was a very good Chinese film and 来不及说我爱你 (Too Late to Say I Love You) is an excellent TV drama.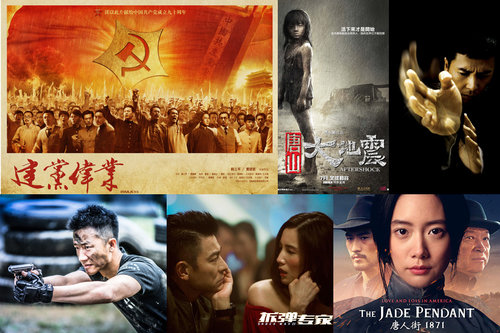 In recent years, Cinedigm Corporation has successfully helped a number of Chinese films such as Aftershock, Beginning of The Great Revival, Yip Man and Extraordinary Mission to reach more audiences in North America. [China Daily]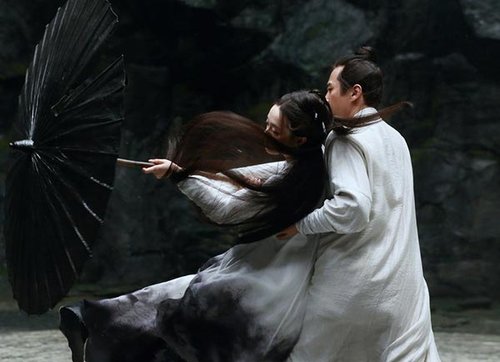 Zhang Yimou's new martial arts film Shadow [China Daily]
(Source: China Daily)