Lu Qin [Women of China/Li Wenjie]
Lu Qin, a senior expert on child education, recently shared her views on how to guide youngsters to use the Internet safely, prevent addiction and avoid harmful content online.
Lu, 69, is the former editor-in-chief of China Children's Press and Publication Group. She is better known nationwide as Zhi Xin Jie Jie (literally "your intimate sister who can have a heart-to-heart talk with you").
Since she was 34, Lu served as a columnist with Chinese Teenagers News. She created the Zhi Xin Jie Jie magazine and became the editor-in-chief at 52. Accordingly, her books on family education have sold more than 3 million copies.
Prevalence of Using the Internet Among Children
When she was a columnist, Lu said she used to receive a lot of letters from youngsters across the country who were willing to tell her secrets from the depths of their hearts, and growing pains, as well as their opinion on various matters.
However, she found that youngsters began to share their ideas with her via email instead of letters after 2000.
"As a new thing, the Internet has been firstly accepted by the most sensitive primary and middle school students for they admire it and they seem to show a kind of 'valuable exploration spirit'. The Internet brings new problems, new puzzles and new contradictions to this generation of people," Lu said.
It is an anxiety for many parents for their children have spent a large amount of time surfing online or even have become addicted to it. For this, Lu expressed a similar feeling.
"I used to take some children to a summer camp in Europe and visit a shipwreck museum. There is a quite spectacular shipwreck with hundreds of years of history with three floors. When we toured the first floor, I could see them but later I could not find them. Only when I climbed onto the third floor did I find that they were playing on their mobile phones in the corner."
Some parents said they even have to send text messages to their kids to ask them to have meals at home. With more and more problems, multiple parents started complaining to her, asking whether or not they should collect their children's phones after school, Lu remarked.
In Lu's opinion, those children who are addicted to the Internet mostly need a sense of achievement and concern. She explained, "Children who have failed in their studies tend to indulge in the Internet because the expectation of parents and teachers for them is single. Academic success becomes the only source of a sense of achievement for them. Once failed, they will have a strong sense of frustration."
But, they will get corresponding "reward" and "incentive" when they finish a task in online games, giving them a feeling that they rarely have in reality, Lu added.
In addition, those children who do not form a habit of communicating with their parents easily get addicted to the Internet, for they do not gain due care and love and they feel lonely. In puberty, those who did not become accustomed to chatting with parents may express opinions and emotions on the Internet. Some time, they will receive many "likes" on WeChat (a popular messaging app in China) for their comments. Hence, many adolescent children have heavily relied on the medium.
Lu recalled she once met a child with a violent temper who cried and expressed his hatred for his mother in a class during a summer camp. Lu learned that the boy's mother did not stay with him at his younger age because of her busy work and he was fostered in a relative's family. When the mother lived with him, she found he had many bad habits and wanted to control him with a strong attitude.
As a result, it caused the boy to develop a psychological inversion and he began playing online games day and night. The relationship between the boy and his mother was on the edge of collapse.
Later, Lu took the boy to attend a summer camp in America and visited a research and development company of a reputed online game called League of Legends. At the company, a Chinese engineer of the game who graduated from Carnegie Mellon University, shared his story about his engagement into the games industry. He said, "The road to innovation is made up of knowledge. You must value the most precious learning time in your life."
When answering questions about the game, the boy stood out among other young visitors and got encouragement from the engineer of the game, which made him quite excited. The visit to the company helped him find his own interest and aspiration.
For those children who are addicted to the Internet, Lu said parents and teachers ought to give children the opportunities to talk about their depression; encourage them to go outside to see a bigger world; and, help them cultivate self-control.
Preventing Network Infringement
It is a common annoyance for parents to help their children avoid the infringement of harmful information online. Children's ability of distinguishing between right and wrong about information online is weaker than adults. And, these youngsters have no doubt about the content of some idols or stars. Therefore, they may easily become the victims when their parents are completely unaware.
Lu cited a case like this. A girl loves a male singer and she listens to his songs and looks as his photos before falling asleep every day.
Later, she met a man online who promised to help her ask for the singer's signature. However, she was finally cheated out of her money and also suffered sexual assault.
In 2010, Lu and Zong Chunshan, director of Beijing Youth Law and Psychological Consultation Service Center, along with some minors' parents, jointly established a "Mothers' Jury". Their main responsibilities are to report and evaluate content that has a bad influence on minors; make proposals to relevant departments; and, supervise the implementation of the evaluation results.
Lu stated the establishment of the jury has played an important role in helping purify cyberspace. "With this organization, mothers are no longer isolated and they can together find ways to solve problems encountered by children in the process of surfing the Internet."
Building Harmonious Parent-child Relationship
Children's Internet-oriented problems reflect the lack of family education. Lu said parents need to do a lot if they want their children to use the Internet properly.
"To build a good parent-child relationship, parents need to communicate more with their children and make friends with them. It is important to give children some affirmation which will help them gain a sense of achievement. If parents are always pointing out their shortcomings, they will be reluctant to share their scores, unique ideas and happy feelings."
"Under this condition, they will look for other channels to express their thoughts. Do not let your children have an illusion that strangers online are more concerned about them than their parents."
Helping children develop more interests and improving their level of appreciation is also of great significance. When they have seen elegant and fashionable things, they will naturally be away from low and vulgar content. In a word, building a rich cultural life will be helpful for children to produce "immunity" to vulgar content.
Meanwhile, Lu said children should be trained to cultivate self-control in terms of detailed matters such as time and finance, and they should learn to keep a diary.
Lu remarked she was once responsible for a writing activity titled "A Letter to the Secretary General of the UN". She was shocked to find five children expressed the same voice complaining their parents spend too much time playing on their phones.
"This shows that parents did not really put their children in their hearts and they set bad examples. Those children who grow up under such environment will be easily immersed in the network and have a sense of loss."
Of course, Lu concluded that the Internet is not a "great scourge" and it has already become an integral part of life. Parents should guide their children on how to read, have classes, entertainment or even make friends online. Lu believes that when parents set good examples, their children will not go astray in the virtual world.
Lu Qin takes part in an activity in a school in Lianyungang, a city in east China's Jiangsu Province. [Women of China/Li Wenjie]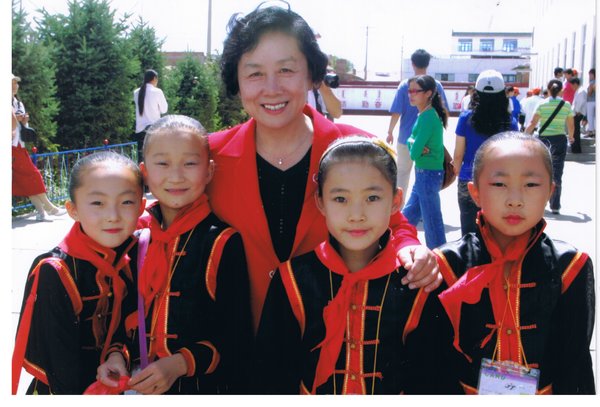 Lu Qin and four girls [Women of China/Li Wenjie]
Lu Qin sits in the middle of children and talks with them. [Women of China/Li Wenjie]