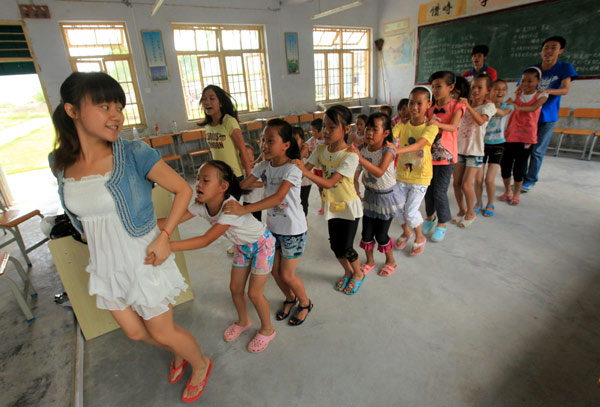 Students from Guangxi University of Science and Technology play with pupils in Tantou township, Liuzhou city, Guangxi Zhuang autonomous region, in July. English, dancing, painting and calligraphy classes were held for the pupils during summer vacation. [Tan Kaixing/China Daily]
A female college student angrily kicked the stools being used by two 4-year-olds because she could no longer tolerate the noise they were making in a restaurant in Dalian, Northeast China's Liaoning province. The mother of one kid fought with the student "to protect her child". Beijing News comments:
Although the two women apologized to each other and settled their dispute under the mediation of other people in the restaurant soon afterwards, the incident stirred heated discussion on social media.
Many people supported the student, saying that such actions are the right way to deal with spoiled, noisy children in public places.
This point of view goes too far, because it shows a lack of consideration for the children, who are less able to control their exuberance compared with adults. Although the supporters of the student may be willing to resort to angry methods to teach naughty children an etiquette lesson on how to behave in public, it is obvious their ire is really directed at the guardians and the way they spoil their children and do not exercise control over them.
The guardians of spoiled children, usually their parents and grandparents, do have a lesson to learn from the public's reaction to the incident, as the public's response shows they do not have the same tolerance for "little treasures" that do not know how to behave themselves in public as their guardians do.
The guardians need to bear in mind their responsibility not only includes ensuring the safety of their wards, but also disciplining them when necessary. It is ultimately not in the best interests of children to indulge their selfish behavior and spoil them when they are growing up. If parents do not prepare their children for the bigger world outside the family in a proper way at the right age, it will become difficult for the children to integrate into society in the future, where they have to follow some rules that they may have ignored at home under their parents' wings.
(Source: China Daily)
Please understand that womenofchina.cn,a non-profit, information-communication website, cannot reach every writer before using articles and images. For copyright issues, please contact us by emailing: website@womenofchina.cn. The articles published and opinions expressed on this website represent the opinions of writers and are not necessarily shared by womenofchina.cn.