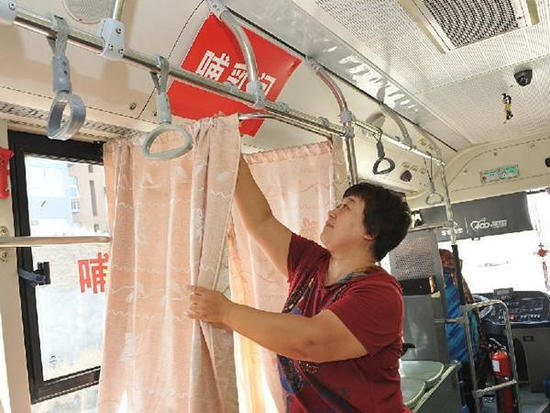 Private cubicles for breastfeeding on a buss in Jinan, east China's Shandong Province [163.com]
Facing the upcoming "baby boom" with the implementation of the universal two-child policy, experts urged the government to give priority to building special rooms for breastfeeding in major crowded public spots.
Situations
Ma Yili, a famous Chinese actress, posted her experience of using an ill-equipped facility for breastfeeding and diaper changing at an airport in China last year on Weibo, China's popular blogging app, which sparked public debate on the issue.
Many netizens echoed Ma's sentiments and had been in similar situations, complaining that baby rooms with good equipment are only established in high-end department stores. In ordinary public places such as parks, tourist attractions, railway stations and airports, baby rooms are rare, bad quality and lack basic facilities, leading to nursing mothers' inconvenience and even awkwardness.
For years, China has encouraged the creation of more maternal and child public facilities, but due to a lack of standardized construction and management, crowded public spaces failed to be equipped with such special rooms, according to experts.
To ease the issue, the whole society should raise awareness of protecting them. Men are not allowed to enter these rooms which are tailored for mothers and infants to reduce the maintenance and management costs of public breastfeeding rooms in public places, suggested Ding Bing, deputy secretary-general of the Association for Maternal and Child Health Studies.
Campaigns
According to Ding, it is well-acknowledged that breastfeeding is beneficial to enhancing babies' immunity, preventing them from diseases, strengthening their emotional communication with their mothers and promoting their emotional intelligence development.
Marital experts emphasized that stopping breastfeeding infants between six months and two years is the best choice for their growth.
However, according to a report, the majority of mothers in China chose to stop breastfeeding their infants during their first four months due to returning to work and a lack of workplace support for breastfeeding or collecting breast milk.
In 2013, the United Nations Children's Fund China Office launched "the 10㎡ of Love" campaign to call for the whole of society to support breastfeeding mothers and advocate for setting up specialist nursing rooms in workplaces and public spaces across China.
As the project consultant, Ding noted that the campaign has also developed a mobile phone application, mapping the locations of nearby registered nursing rooms.
Experts claim that the establishment of lactation rooms could improve breastfeeding mothers' working efficiency since they can express milk or take their babies with them while working in the office. They can also breastfeed their babies longer than before thereby reducing their babies' chance of illness.
Yuan Xin, a professor from the Population and Development Research Institute in School of Economics in Nankai University, specified that employers could provide mothers with private cubicles equipped with a sofa, table, comfortable chairs, power sockets, refrigerators and toys for breastfeeding and other infant care.
Actions of Authorities
Since the universal two-child policy was officially adopted in 2016, a large number of women of child-bearing age are considering having a second child. It is estimated that the newborn population in China will peak in 2017 and 2018 at around 20 million, say officials.
To greet the upcoming baby boom, China's top ten authorities including the National Health and Family Planning Commission and the Ministry of Housing and Urban-Rural Development issued the Guiding Opinions on Accelerating the Construction of Maternal and Infant Facilities in November 2016.
According to the guideline, more than 80 percent of major public places in the country should be equipped with nursing rooms by the end of 2018. All major public places in China, such as transportation hubs, big shopping malls and hospitals, should be equipped with mother-and-child facilities by the end of 2020.
The guideline also clarified that such facilities, used for breastfeeding or diaper changing, should be at least 10 square meters and have basic facilities such as diaper-changing pads, hand-wash basins with hot water, cribs and chairs for mothers to sit in while breastfeeding. Workplaces should also set up nursing homes for breastfeeding staff, it added.
Furthermore, it instructed related departments to set up sign boards for guidance, which will promote the efficiency and standardized usage of nursing rooms.
Voices from Experts
Experts stressed that the guidelines on building up mother and children facilities and specifying their design demonstrated China's concerns on women and children, representing great social progress.
Ding introduced that many developed countries such as Japan and France have highlighted the construction of well-equipped nursing rooms in public places as an important part of social services.
Confronted with a lack of nursing institutions for toddlers in China, Yuan suggested that the governmental departments and institutions should take the lead to build up lactation rooms.
"The establishment of such facilities reflects the development and civilization of a society," said Yuan. "Breastfeeding and infant care involve privacy and can be embarrassing in public. All public places in China should be equipped with such facilities, if possible."
The "10 ㎡ of Love" campaign to raise awareness and support for breastfeeding mothers was held by the UNICEF's China Office on May 30, 2013.[File Photo]
(Source: China Women's News/Translated and edited by Women of China)