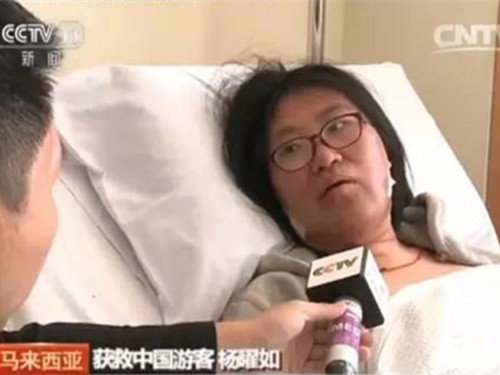 A screenshot of the CCTV's interview with Yang Yaoru, who speaks while lying in bed in the hospital [Women Voice]
Two female survivors recently shared their memories from the boat that sank off the coast of Malaysia on January 28 while carrying a total of 28 Chinese visitors.
According to China's media outlet China Central Television (CCTV), aboard the Malaysian tourist boat were a total of 31 people—28 Chinese residents and three local crew members. They were en route to the island of Pulau Mengalum, some 60 km away from the tropical country's coast.
The Chinese General Consul launched its emergency protocol to rescue them through combined efforts with the Malaysian Maritime Enforcement Agency, local air force, and Brunei.
So far, 20 visitors and two crew members have been rescued; five travelers and one crew member are still missing; and three visitors have been confirmed dead, reported CCTV.
Yang Yaoru, 24, a resident from east China's Jiangsu Province, was one of the survivors who spoke in an interview about the journey.
What she had hoped would be a nice family vacation with her mother during the Lunar New Year holiday, but it quickly turned into a nightmare after the boat was found to be leaking water, capsizing in just three minutes.
"Everyone was forced to cling to each other closely. The idea was that a clustered human group might be more easily found by other boats or the rescue team," said Yang.
"We had to share the scarce food and fresh water stored on the boat. We each drank just a little bit so that more could be saved for the young ones," Yang recalled.
"I kept encouraging my mom to stay calm and wait for the rescue team. I reminded her that we had phone conversations every day with my father back home; and so, once he noticed that we weren't calling him, he would immediately realize that something went wrong and could contact the Chinese embassy," she said.
Yang clung to the strong belief that there would be boats or helicopters to come save them. "Fortunately, my mom and I stayed together until the very moment that the rescue team arrived, even though we were floating at sea for over 10 hours," noted Yang.
They were rescued on January 30 by an Indonesian fishing boat and were later sent to a local hospital.
Among the other survivors was a woman surnamed Fan from the eastern Chinese city of Suzhou.
Fan suffered dehydration caused, to some extent, by her severe over-30-hour-long exposure to the sun, a doctor reported.
During the horrific incident, while they were floating at sea, Fan tried desperately to hold on to the body of her close friend, who by then had already drowned. For Fan, the last thing she could possibly do was leave her friend alone in the cold, dark foreign waters.
In the end, however, Fan was not strong enough to sustain her grip for that long period and had to let go.
"It was a huge contrast to the pleasant, tropical beach trip we anticipated. It has turned into a horror ever since we set off the island. We found out that the boat was actually broken and was leaking water. What made it worse were the severe weather conditions and the fact that it was loaded to overcapacity. According to the local maritime agency, the waves at the time were as high as 3–5 meters," said Fan.
"Therefore, we had to abandon the boat only to find there were only five lifebuoys available. We gave priority to the elderly while the others made a huge human circle around them. However, later we would get dispersed in the ocean," she recalled.
"I'm so thankful for the Malaysian fishermen who found us in the end; otherwise, we might not have gotten through that night. Also, I want to extend my sincere gratitude to the Chinese embassy and the Malaysian government, which both contributed their efforts in the rescue," she said.
Fan and the other survivors are now recovering in a local hospital. The entire incident is being investigated by relevant departments, reported a journalist from the CCTV.
Members from the rescue team accompany a survivor (L3) to a rescue car. [China Daily]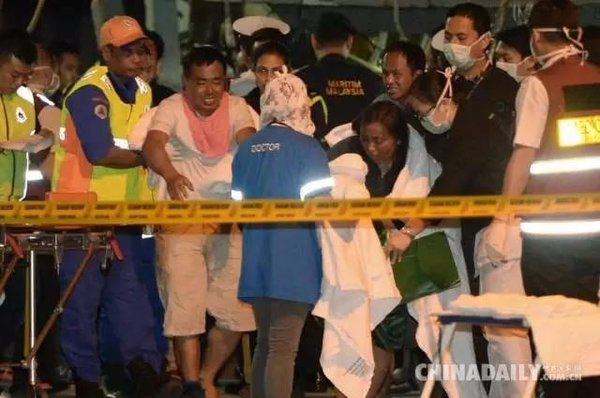 The rescue team assists people in need. [China Daily]
Survivors, accompanied by the rescue team, lie on medical stretchers. [China Daily]
(Source: Women Voice/Translated and edited by Women of China)