Qin Xiaohui, 6, helps his grandfather with farm work in a field in Balie village of Dahua Yao autonomous county, South China's Guangxi Zhuang autonomous region on July 5. Qin looks forward to the day when he is bigger and can help his grandfather more on the farm.[Xinhua]
China's "left-behind" children cannot spend Children's Day with their parents, who leave for cities in search of a better life. China has an estimated 61 million "left-behind" children who live alone or with elderly relatives. Who should care for these children? Forum readers share their opinions.
In the UK and most of Europe, etc, it would be illegal for both parents to leave their kids behind without at least a grandparent that's capable looking after them and sending them to school. The kids (in the UK) would be taken into care and the parents would be searched for by the police and social services sector. Even leaving a young child at home unsupervised or fed for one day is illegal! The relatives, local community and the police should also hang their heads down in shame.
US
Why can't their parents keep them with them in the places they work? Too low pay to get housing? Low income subsidized housing should be provided for the workers who can't afford to keep kids with them.
The countryside can be a pleasant place to live if there are relatives to take care of them. But to be away from parents for the young can be very trying. Many American kids have to endure separation from one parent or other because of divorce. Life is difficult for these kids as they cannot have a real family life as it should be.
In Western society the children would move with the parents and attend a school close to where the parents live. I remember my family moved every 1.5 years as my father had a new job offer. And it was not just a few miles it was all over the USA. Alabama, to New Mexico, to New York, Massachusetts, New Jersey, Missouri, and then to Connecticut and I was nine in Connecticut. The parents are not irresponsible, the state should make efforts to allow the children to attend schools close to where their parents live and work.
Singapore
According to English law, their parents are guilty of gross negligence, for ignoring all factors of emotional well-being, nutrition and physical development
It carries a sentence of 10 years and is equal to involuntary manslaughter.
But Chinese laws differ and have different guidelines on what is legal. Also... children may not follow their parents as the hukou may not allow them to study in schools outside of their county. Perhaps amendments to existing policies could be made to protect children better? In any case, irresponsible parents should be punished.
Canada
Since their parents are not around, what then is sorely needed are better protection for them and facilities for extracurricular activities. This all takes money and human resources to improve their livelihood and so I hope they will be forthcoming to them soon.
China
Chinese parents usually want to make money to lift themselves out of poverty , but ignore the need to accompany the children. I was a stay-at-home girl, I know the feeling of been left at home with my grandparents. Fortunately, I grew up healthy. Now I work together with my parents in the same city.
Ireland
In most European countries I know, a family will do all it can to remain together no matter how difficult the financial circumstances are, even if it means one parent being absent for a few months at a time.
If you can not afford to be present as a parent with your child yourself, you should not have one.
Thailand
'Money' is the current currency for 'doing' a lot of things in this current world, and China has enough to help its poorest citizens, I think. I would suggest that local authorities set up government orphanages for abandoned children, and community homes for the neglected elderly, the disabled, and the down-and-out in society, helping those capable to find jobs in the long term. The public, and especially the very rich, can be encouraged to make monetary contributions and volunteers from schools, colleges, and the general public, can help with part-time assistance in such institutions. If there is a will, there is a way; if there is a heart, there is a human society.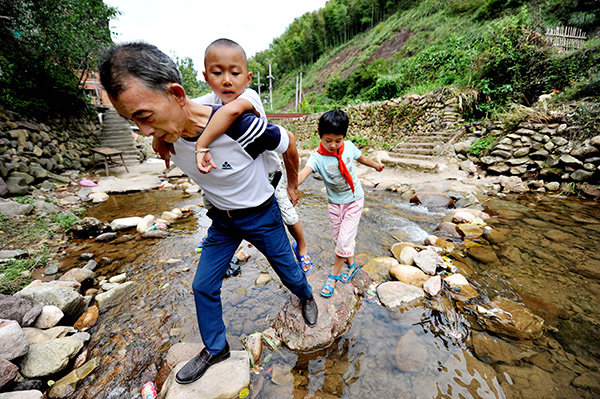 Two left-behind children follow their teacher to school in a mountainous area of Jiangxi Province. [China Daily]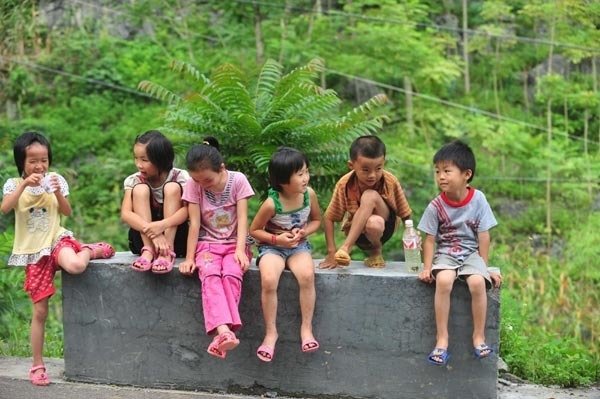 Qin Xiaohui, right, plays with other children in Balie village of Dahua Yao autonomous county, south China's Guangxi Zhuang Autonomous Region on July 5. Qin's parents are migrant workers and they leave him and his older brother in the village with the children's grandparents for long periods of time while they go to work. [Xinhua]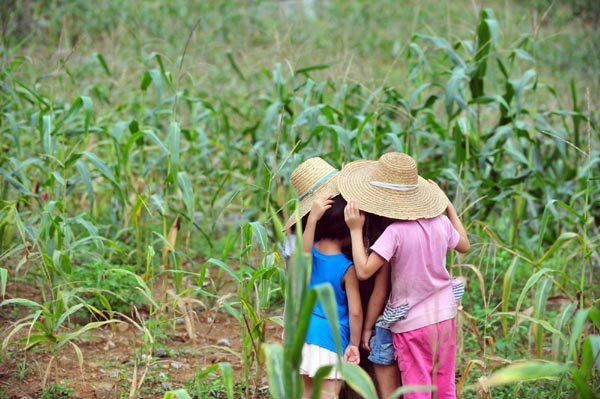 Qin Xiaohui, plays games with his friends in a field in Balie village of Dahua Yao autonomous county, south China's Guangxi Zhuang Autonomous Region on July 5, 2012. [Xinhua]
(Source: China Daily)