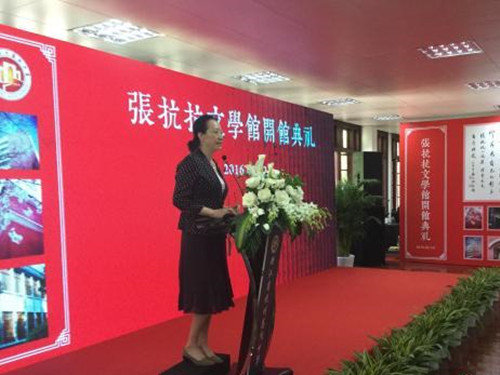 Zhang Kangkang at the opening ceremony of the literary hall built in her name at Hangzhou High School at east China's Zhejiang Province [chinanews.com]
Female Chinese writer Zhang Kangkang, 66, has advocated that more Chinese youths should read books and classics in paper form, rather than on digital devices and computer screens.
Zhang made the comments during a speech to mark the opening of a small literary hall built in her name at her former high school in Hangzhou, capital of east China's Zhejiang Province on May 12.
Zhang, vice-president of the Chinese Writers Association, began her writing career in 1979. Her novels include Invisible Mate and Women on the Edge, which was given the National Short Story Award, and the Lu Xun Literature Award, one of the top literary prizes in China.
It was the first time in 50 years that the female writer had revisited her high school since graduating in 1966.
"As I walked through the corridor of the building, a gleam of light suddenly shed upon me, and I started to realize that humans are innocent babies in the cradle of a school who are in need of knowledge," she recalled.
Also, Zhang expressed that she felt much delight that old buildings have been so well preserved.
At the ceremony, the writer delivered a speech on reading.
She believes that reading among youths has largely been affected by entertainment.
One of her biggest worries was over "fragmented reading", meaning the trend for browsing on digital devices without much profound thought over the entire world.
She encouraged youths to read serious literature, including classics and famous masterpieces.
Furthermore, Zhang remarked that encouraging reading from printed books does not exclude against digital reading entirely.
Meanwhile, she admitted that advantages of digital reading such as portability and timeliness from updated news are significant. And it is better to find a way to combine the advantages of the two reading styles instead of making them opposite.
Moreover, Zhang hoped that the literary hall would organize various activities on reading in future to involve youths.
Zhou Yuxing, one of Zhang's fans at Hangzhou High School, claimed that he has much more enjoyable reading experiences from paper books than digital ones and other reading styles can hardly be compared to the actual books due to the happiness and satisfaction from the action of flipping pages.
Other prominent participants at the ceremony included Jidi Majia, president of the Chinese Writers Association and Shu Ting, a famous Chinese writer of contemporary poetry.
(Source: chinanews.com / Translated and edited by Women of China)