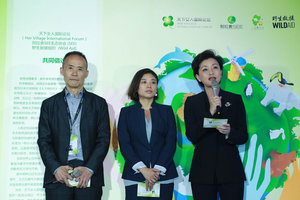 Famous Chinese TV host Yang Lan (R) and the real estate tycoon Wang Shi (L) jointly call for gender equality and women's leadership. [cnwomen.com.cn]
The 2015 Her Village International Forum was held in Beijing from April 11–12, over which period government officials and scholars exchanged their views on the progress made on women's development, the challenges facing gender equality and how to enhance women's leadership.
Progress and problems concerning women's development and gender equality
Yang Lan — famous Chinese TV host, president of the Sun Media Group and participant of the UN's Fourth World Conference on Women, held in Beijing in 1995 — shared what she has witnessed in terms of the progress made in Chinese women's development: Dozens of universities have set up institutions for women's studies; women have gained access to better education, with female students accounting for 51 percent of the total post-secondary student body; employed women account for 46 percent of the total; and women have claimed a 30-percent stake in the total population of Chinese entrepreneurs.
Moreover, Chinese women have achieved greater levels of personal accomplishment and a better sense of participation, as was revealed by a nationwide survey. Over 86 percent of female respondents showed faith in the nation's development; and about 90 percent proclaimed their pursuit of independence, holding that women should be self-reliant when it comes to earning a living. As for working capacity, most women believe that they are no less competent than their male counterparts. Improved awareness of equal rights has encouraged Chinese women to make their voices heard, to work for self-development and to share in the fruits of China's social and economic development.
Li Mingshun, a scholar devoted to marriage and family law, presented to the forum's participants the status quo of gender equality in China from the perspective of marriage life. He mentioned a number of mainstream ideas in Chinese society, including freedom of marriage, monogamy, gender equality and protection of the legitimate rights and benefits of women, children and the seniors. He also pointed out that extreme individualism should be prevented in families.
Na kyung-won, a South Korean politician and lawyer committed to women's affairs, revealed that although the country has a female president and the 13th-highest GDP in the world, the road to gender quality is still littered with difficulties and obstacles. Only one out of the country's 17 ministers is female, and women officials account for merely 15.7 percent of the total. While South Korean women are better educated than ever, few of them, however, are managing to break the glass ceiling in employment.
Given this context, the South Korean government has aimed to nurture a pro-mother environment, where extended maternity leave for mothers — as well as childcare leave for fathers — will be provided. A nationwide survey will be conducted to further promote gender equality. Companies and enterprises have also introduced relevant measures to encourage women's pursuit of career: Samsung, LG and Hyundai Motor Corporation, for example, provide special services for pregnant employees and flexible working hours for those returning to work after giving birth.
Women's leadership and representation of women leaders in the media
Many women have demonstrated strong abilities in leadership and management, probably as a result of their long-term household management and intensive care for families, pointed out Zhang Lixi, former president of China Women's University. Na kyung-won agreed to this idea and held that "Ahjumma" (middle-aged women) have played a crucial role in building a wealthy South Korea by promoting the education of their next generation while seeking their own development.
The images of women leaders, however, have been more than often distorted in mass media, as few women have been involved in the field, according to Pat Mitchell, chairperson of the Paley Center for Media. As a result, most of the female employees in Fortune 500 companies find executive positions to be "unattractive," as was reflected by a survey conducted by the Paley Center. "When women can tell their own stories to the public, a greater number of others will be inspired, and a more sustainable world will be built with increased peace and prosperity," said Pat.
Zhang Lixi also called for an improved environment for promoting women's leadership. Moreover, he proposed that education on gender equality should be given to students in various schools at all stages. "With equal opportunities given, women shall make equal achievements," he added.
Pat Mitchell, chairperson of the Paley Center for Media, analyzes the phenomenon of distorted images of women leaders in mass media. [cnwomen.com.cn]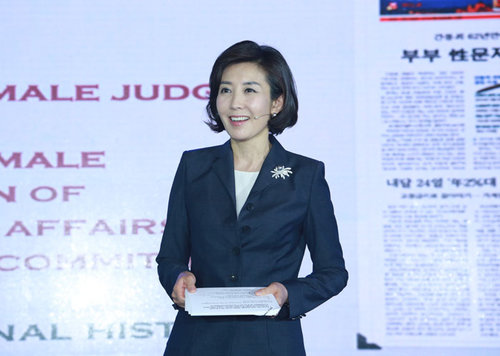 Na kyung-won, a South Korean politician and lawyer committed to women's affairs, introduces the status quo of gender equality and women's development in her country. [cnwomen.com.cn]
(Source: cnwomen.com.cn/Translated and edited by Women of China)