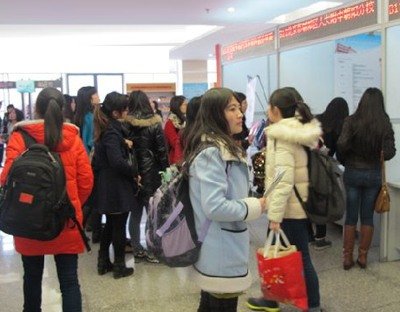 Female university students at a job fair [File Photo]
Chinese female undergrads on the whole want to further their education, and they are more concerned with conflicts between childbirth and career than being called "left-over," shows a recent survey by China Women's Development Foundation.
The survey covers some 1,000 young women from 10 teaching institutions in Beijing, 43 percent who are freshmen or sophomores, 52 percent seniors and 5 percent enrolled in Master's or Ph. D programs. The researchers also conducted interviews with 15 of the females face-to-face.
Career Considerations
Only 40 percent of the respondents expressed their decision to work after graduation, among whom some half want to start their own businesses. The other 60 percent want further education, with 36 percent wanting education overseas.
Generally, 1st-tier cities such as Beijing, Shanghai and Guangzhou remain the most popular work destinations, with 49 percent taking them as their first or only choice. Smaller cities are desirable for only 14 percent, while 18 percent do not care about the place.
When hunting for jobs, the university-goers care most about salary and other benefits. Half of them call for monthly payments of no less than 5,000 yuan (U.S. $760), 17 percent and 19 percent would take 3,000 yuan (U.S. $450) and 8,000 yuan (U.S. $1,200) as the bottom line, respectively, with 5 percent showing no requirements.
Apart from economic returns, the respondents prefer jobs they enjoy and those with good promotion prospects. Working environment, company influence and working sites are thought as the least important factors, mentioned by barely 20 percent.
Concerns over Family Life
While media outlets call single women above 25 "left-over" and talk of a common anxiety surrounding the label, the survey finds that 73 percent of the students plan to marry from 26-30, 11 percent at even older ages and a mere 10 percent would get married before 25.
What concerns the group more is the conflict between childbirth and career development. Over 60 percent of the females want to have children before reaching 30, but the proportion drops to 25 percent during the period of 31-35, the "golden years" for professional women. Hence, "childbirth anxiety" has become a real problem among college women, pointed out the researchers.
A vast majority of 91 percent thought household chores and child-raising would adversely impact their career. Still, over 60 percent expressed their willingness to share household chores and the duties of child-raising. Another 34 percent hopes to transfer the work to others such as their own parents or babysitters.
Moreover, 29 percent of college attendees said they would adjust their own career for the sake of their husbands or the family, while 17 percent said they would not and the majority were not sure.
(Source: China Women's News/Translated and edited by Women of China)