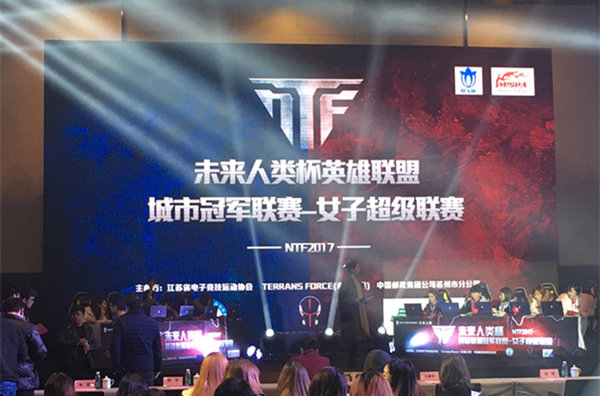 NTF 2017, China's top women's pro league of League of Legends is held in Wuxi from December 22 to 24, 2017. [Chinadaily.com.cn]
Professional players, passionate commentators and a venue packed with fans and cosplayers, this is the NTF 2017 final, China's top women's pro league of League of Legends (LoL) which is being held in the eastern Chinese city of Wuxi on December 22-24.
LoL, a multiplayer online battle arena game developed by Riot Games, has become one of the world's most popular online games. It has attracted a massive following and has professional leagues and tournaments.
NTF has been held for four years and this year's final has seven teams including KA, NG and LLG. The league also held qualifiers in Wuxi as part of the World Internet of Things Exposition in mid-September this year.
"The well-developed Internet of Things industry in Wuxi is an important reason why NTF chose the city," said Xu Yu of Wuxi e-sports association, a local government department established in 2009 and a co–host of this year's NTF.
"IoT technologies including the internet, processors and sensors are what support the entire process of a game," explained Xu. He also said that the Wuxi government plans on offering more favorable policies and funds to attract e-sports businesses to settle in the city.
Unlike the World Championship or Pro League, where male players dominate, NTF is a game only for female players.
"Chinese women's teams rank highly on world lists", said Shan Chen, a pro top laner who has served her team LLG for two years. "We have previously beat countries like South Korea as well as countries in Europe."
Shan, whose favorite LoL champions are Jayce and Gnar, said that her team trains 8 hours every day, six days a week.
Another top women's team in China, TF, is also present at the final. TF is managed by Suzhou Industrial Park Bopir Technology Co Ltd, a PC seller headquartered in Suzhou, a city near Wuxi. Bopir is also a co-host of the ongoing NTF final named after its brand Terrans Force.
Bopir only trains female players, and they believe that the lack of a women's team in the world's top tournaments is due to a late start, but will change in the future through the professional training of female players.
"We only hire players with a strong devotion to their career," said Raybert Kuk, marketing manager of Bopir's recently established Hong Kong sector.
Kuk is positive about the industry's prospects. "We are hiring more female professional players in Hong Kong and they now have a salary no less than that of a local graduate."
(Source: China Daily)