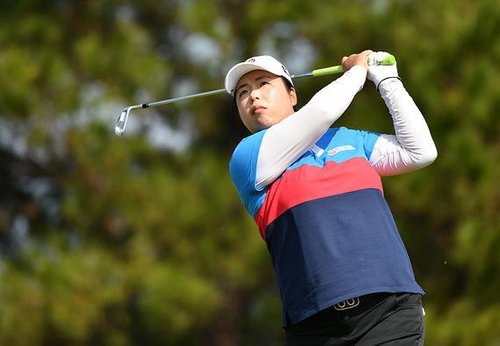 Feng Shanshan [sports.sina.com.cn]
Chinese golfer Feng Shanshan continued her strong form of late when the Chinese world No. 4 held it together through cool and windy conditions on December 16 to card an even-par 72 for a one-stroke lead at the Hyundai China Ladies Open in the city of Qingyuan in south China's Guangdong Province.
South Koreans Kim Min-sun, Hong Jin-joo and Lim Eun-bin were one stroke off the pace at the US$550,000 event, the season-ending tournament of the China LPGA Tour that is co-sanctioned with the LPGA Tour of Korea.
Fellow Koreans, world No. 7 Jang Ha-na and world No. 25 Kim Hyo-joo, both past winners of the national championship, were in a group of 10 players who shot 74 over the Lion Lake Country Club Moon Course in Qingyuan, 60 kilometers northwest of Guangzhou.
Teeing off from the 10th hole in the early morning, Feng, a winner of three tournaments in her last four starts, including last week's Dubai Ladies Masters, had a bogey on her first hole and then reeled off four birdies over the next seven holes to get to 3-under. After a bogey at the 18th, her ninth hole, she sank a 45-foot putt at the second, her 11th hole, before three consecutive bogeys starting at the next.
"Today's even par is not perfect. I made five bogeys, which is too many for me. But five birdies are awesome against the tough conditions. Hopefully I can take out those mistakes in the next two days," said Feng, a bronze medalist at the Rio Olympic Games.
"Today, I shot 3-under at my best time, but I made three bogeys in a row from No. 3 that left me with a little bit of sour taste. But overall I think it is a good start in such difficult conditions. Those greens were very tough. You must put yourself in the right spot or you might end up three-putting. The long-range putting is very tricky."
With Koreans having dominated the first 10 years of the championship, Feng said it was encouraging to see the improvement in the Chinese players and the possibility of a homegrown champion. "Entering the tournament I said that I hoped that we could keep this trophy in China, but I didn't say that one is me. I am happy with any Chinese winner. As one of the Chinese team, I will definitely try my best to win."
(Source: Shanghai Daily)