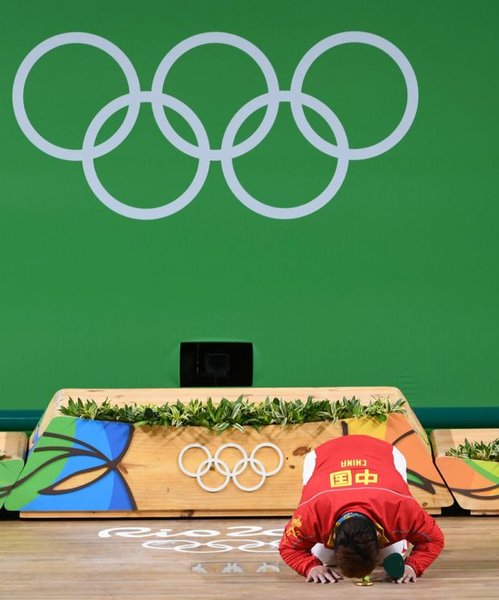 Meng Suping of China kneels with her gold medal after walking off the winners' podium, Aug 14, 2016. [Xinhua]
Meng Suping claimed the fifth weightlifting gold medal for China as she lifted a total of 307kg in the women's over 75kg category at the Rio Olympic Games on Sunday.
China has collected five gold medals from the women's 63kg, 69kg, over 75kg, men's 56kg and 69kg categories, and took two silvers from the men's 77kg and 85kg categories.
After winning the competition, Meng kneeled down three times to thank the fans, who roared to support her after she failed in her first attempts, both in the snatch and jerk.
"It's also for all my supporters, my country and the amazing land Brazil," she said.
"I came on the stage a little bit nervous, but I was able to stabalise and go forward with my weights," Meng said.
The final was billed as a battle between Meng and Kim Kuk Hyang of the Democratic People's Republic of Korea, and so it proved.
Kim, bronze medalist at the 2015 World Championships, snatched the most of 131kg, and was being chased by Meng, who sat behind by just one kilo.
Meng, silver medalist at 2015 and 2014 World Championships, showed her prowess in the jerk as she lifted 177kg over her head for a winning total of 307kg after the 23-year-old Kim finished her 175kg jerk for a total of 306kg.
"I was happy that I made second, but I was sad I couldn't make first place," Kim said.
Meng, 27, also gave China its fourth gold medal in the event after Ding Meiyuan won in 2000, Tang Gonghong in 2004 and Zhou Lulu four years ago in London.
"Honestly, before the competition I didn't really think about how much weight I planned to lift, I was just following my coach's directions and treating every lift as a lift by itself and I think the final result was pretty good."
Kim's silver gave DPR Korea its first medal in the highest weight class in weightlifting both in men and women.
Sarah Elizabeth Robles of the United States won the bronze with a total of 286kg.
"This has been very challenging mentally for me, trying to overcome my own self doubts and trying to erase the negativity of a lot of people around me," Robles said.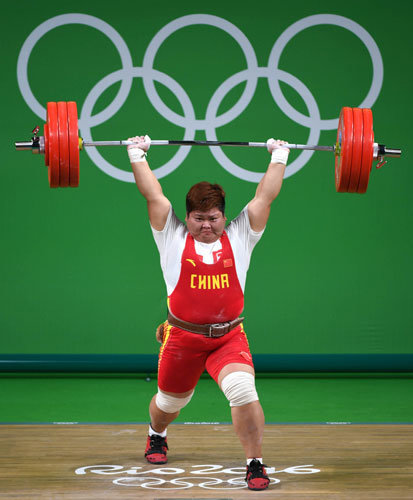 Meng Suping of China competes during women's over 75kg weightlifting at the Rio Olympic Games, Aug 14, 2016. [Xinhua]
Meng Suping of China (center) sings her national anthem. [Xinhua]
(Source: Ecns.cn)