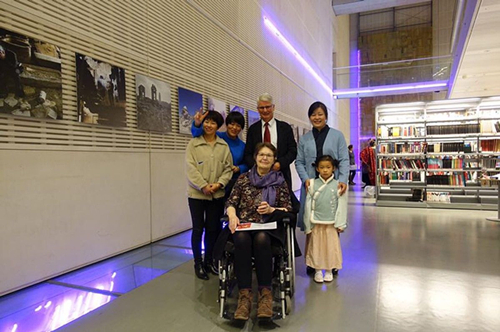 Huang Wei (back, R) and other participants pose for a photo during the conference in Denmark.
Huang Wei, an expert in ancient Chinese porcelain, recently attended an international conference in Copenhagen, accompanied by two villagers from Jinkeng, eastern China's Jiangxi Province, to talk about their efforts in preserving local culture.
Huang was accompanied by Cheng Haiying, president of Jinkeng Women's Federation (JWF), and her colleague Wang Yuping. As well as being an archeologist, Huang is a member of the executive committee of Jiangxi Women's Federation and part-time vice-president of JWF.
Cheng recalled: "I was so surprised when Huang said she was invited to an academic event and Wang and told me I could go with her." She is still excited about her recent experience of attending the international gathering in Denmark along with scholars from Italy, Romania and Poland.
Jinkeng lies about eight kilometers to the east of the city of Jingdezhen, China's porcelain capital in Jiangxi.
A thousand years ago, Jinkeng supplied Jingdezhen with the quality china clay that was so crucial to the production of Qingbai ware, the bluish-white porcelain considered the embodiment of excellence in the annals of Chinese ceramics.
Huang lectures at the Jingdezhen Ceramics Institute. Since 2006, she has worked with other archeologists and has discovered the sites of 15 different porcelain kilns in Jinkeng dating back over 1,000 years to the Song Dynasty.
She has researched and mapped the six-kilometer route along which the clay was transported, found several clay mines and various items of mining equipment.
Traces of the entire porcelain-making process can be found in Jinkeng, making the preservation of the village's historical heritage all the more significant, Huang said.
Huang has encouraged locals to take part in the preservation of ancient buildings and, based on discussions with them, formulated a list of 10 ways to preserve Jinkeng porcelain cultural and the local ecology.
She also established a workshop where she regularly organizes lectures to promote Jingdezhen's porcelain culture. Her efforts have helped villagers better recognize their culture, say locals.
Cheng and Wang feel proud of their hometown because it is now full vitality and the profound porcelain culture has become a part of life there.
To make their hometown even better after they returned, they showed fellow villagers many photos of the clean streets and attractive views in Denmark and told them about the environmentally-friendly lifestyle in the European city.
Jinkeng was once known for its backward living environment. In recent years, though, organized by Huang, villagers and some college student volunteers have cleared away the trash that had built up in the river and introduced a garbage classification system.
Huang also led female villagers to visit a village in Huangshan, neighboring Anhui Province, to learn how to build attractive courtyards and canals.
Although villagers longed for fast economic development and the improvement of their lives, they chose to prioritize the preservation of the environment and ancient cultural sites in the village. They grow organic rice, vegetables, lotus and chrysanthemums, which makes the village boast beautiful scenery all year round.
Huang attributed the achievements of Jinkeng in cultural heritage protection to the joint efforts of government, scholars and local people.
(Women of China)