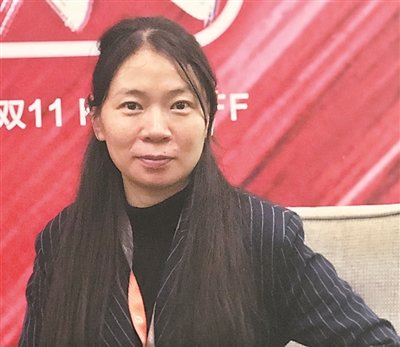 Shuang Bo [Guangzhou Daily]
A programmer who is a mother and works in Alibaba Group in Hangzhou, east China's Zhejiang Province, spoke to interviewers to share her experience during the Single's Day shopping spree.
Shuang Bo is the technical director of Alibaba Group in Hangzhou, as well as a mother of two children.
After graduating from the Computer Department of Southeast University, she went to the United States for further study. Then, Shuang joined Alibaba in 2008 and was transferred to the newly established Technical Support Department for coping with the shopping spree in 2012.
The new post was thought vitally important, "the key to the special day is the first few hours, and everything is over if a technical problem arises."
However, Shuang spoke of the day with some sort of ease, saying that they deal with bandwidth peaks that no other company can possibly encounter, which is of great value for the growth of every programmer in her team.
As early as November 7, Shuang and other technicians began the last but most intense test of the company's full-link pressure-measuring system, which actually simulates the flow on the day of November 11.
Moreover, all programmers participating on the shopping day must work through the night to deal with any problems that arise between noon on November 10 to the evening of November 11.
"We have to work at least 36 hours straight. The busiest time is from midnight to 1 a.m. on the day," Shuang said.
On that very day, more than 1,000 programmers were assigned to work through the night in more than 20 offices, the largest and most central contained more than 200 people.
In order to ensure the programmer's work, the company's support staff would also regularly provide them with fruit or ready-to-eat foods. There were also lounges and temporary camp beds next to each office to allow the programmers who had become completely exhausted to take a rest, but they can only take a short sleep for two hours at most."
According to Shuang, there are more than 1,000 programmers in Alibaba, with a male-to-female ratio of nearly 8 to 2. When she was studying computer science at her home university, there were only six girls in a class of 30.
But Shuang doesn't think managing these more than 1,000 people would be a challenge for her simply because of her gender. In fact, in her view, it is easy to work with technical talents, because everyone is rational and has a "planned character".
For programmers, the challenge is easier now than it was a few years ago. Since the company has designed a range of AI (artificial intelligence) devices to keep tabs on what goes wrong, programmers just need to operate the machines.
"Now, our response has been very mature as compared with before," Shuang added.
In the fall of 2009, there were only 27 brands participating in the first shopping festival, and the final transaction amount was no more than 52 million yuan, but the technical department at that time was already overwhelmed.
"It was our first time to support a shopping spree without any related experience before," said Sihu, the programmer in charge of technology operations.
The November 11 of 2011 was almost the darkest day for corporate programmers.
"In that year, all the teams had started preparation for the event several months ahead of the date, including launching the first phase of the price declaration system and completing the registration of merchandise. Everything seemed to be going smoothly," Shuang recalled.
"It was not until the night of November 10 when some sellers found the discount price set by the merchant was wrong, but since the previous operation had been executed, we had no choice but to release again," Shuang added.
Therefore, all technicians reached a consensus that there must be a system to simulate the bandwidth on the day in the most realistic way in order to discover all the problems with the system in a timely manner and guarantee the buyer's shopping experience in a later meeting.
"So, in 2013 we created a new system: the full-link pressure-measuring system," Shuang explained.
In order to complete the testing of the new system, Shuang and other technical colleagues worked overtime day and night. Finally, in October, the test was completed in success, overcoming some 600 bugs.
Since then, as the company has seized on system expansion and a series of innovations, there are no major system problems any more.
"Although each year's problems are different, our technical team will never repeat the same mistake twice," Shuang said.
(Source: Guangzhou Daily/Translated and edited by Women of China)