Zhang Youli (L) and Ye Zhuhuai [workercn.cn]
97-year-old Zhang Youli, the oldest retired teacher of Ruanyong Primary School in Dongguan City, south China's Guangdong Province, taught for 40 years and showed passion for education.
Zhang, born in Guangzhou, in 1921, taught English and Chinese, and her oldest student is over 80 years old.
In 1949, after graduating from Zhongshan University, Zhang entered Ruanyong Primary School in Dongguan City teaching Chinese.
Zhang worked as a Chinese teacher in three different schools, and after she was transferred to Guancheng No. 2 Middle School, she began to teach English.
In 1981, Zhang has reached the age of retirement, and yet she continued teaching until 1989.
Zhang worked conscientiously and provided high-quality education to her students. She helped underprivileged students and established good relationships with her students.
Zhang and her husband, 97-year-old Ye Zhuhuai, have been together for as long as 73 years. The old couple love and support each other.
Influenced by Zhang, Zhang's daughter and son are also teachers.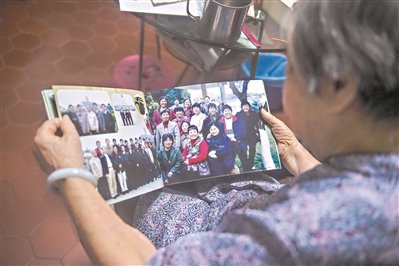 Zhang Youli watches the group photo. [workercn.cn]
(Source: workercn.cn/Translated and edited by Women of China)