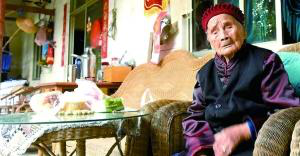 Mrs. Zhu [Beijing Morning Post]
Zhu Zhengshi, a female centenarian from Chengdu, southwest China's Sichuan Province, celebrated her 118th birthday on September 11, according to a recent media profile.
Zhu was born on the second day of the eighth lunar month in 1900. Now, though slightly hunchbacked, she is in high spirits.
According to Zhu Fangqiong, Zhu Zhengshi's granddaughter, her grandmother hearing has declined this year, so people have to speak loudly to her.
Nearly 100 members of her family came back this year to celebrate her birthday.
"I'm happy they are back, but that's too much trouble for them to come back for me," said Zhu Zhengshi.
Since her birthday party cost money, she worried about the burden incurred on the younger members of her family.
"My grandma has a heart of gold," said Zhu Fangqiong. According to her, Zhu Zhengshi has been through hard times and though she now lives well, she is still very thrifty.
Zhu Zhengshi has five children and she now lives together with her second son's family.
All her surviving children are over 80 years of age, except her eldest son who passed away due to illness, and her direct descendants have reached nearly 100.
Zhu Zhengshi likes to take pictures. Her only wish is to take a family portrait with her entire family.
According to Zhu Fangqiong, Zhu Zhengshi keeps a regular daily routine, is good-natured, and does not take personal gains or losses too seriously — that's perhaps the secret of her longevity.
(Source: Beijing Morning Post/Translated and edited by Women of China)