The "Brave Girl" [cyol.com]
Several young brand developers from different industries shared their stories of starting a business and highlighted their most notable characteristics in a recent interview.
The younger generation are becoming the leaders of entrepreneurship today. They have their own IP (Intellectual Property) and are eager to break through tradition, says the interviewer.
According to the results of a survey released by business information and data suppliers Netease Cloud and IT Orange, the ages of a large proportion of today's entrepreneurs are between 25 to 30.
The report also indicates that several fields including enterprise services, cloud computing, big data, artificial intelligence and intelligent manufacturing, have become popular, accounting for over 28 percent of start-ups overall.
So, non-mainstream industries have become the new direction favored by young makers.
'Wudaokou Boys', 'Brave Girls'
Xu Xin gave up his well-paid job to start a business in Beijing with two friends. They focused on college students and came up with the name Wudaokou Boys.
"Young people love social activities. Especially in graduation season, they need a venue to share their feelings and life ideals with friends," Xu explained.
Customers can play games, celebrate birthdays, run a reading club, or even make a marriage proposal in Xu's Home Party venue.
Xu and his team opened 10 such venues, and expanded their team from three to several dozen in just two years.
Another entrepreneur who goes by the name of "Brave Girl" has made a career out of travel blogging. The 26-year-old was on a train to New York when she thought she may do what she likes and try to support herself this way.
Therefore, she began to make her own short videos and put them on her WeChat public account which turned out popular.
The character symbol of Brave Girl is pursuit of freedom, like traveling and fashion. She introduced herself in her social network this way, "I'm Brave Girl. I can work on a farm by myself and travel around the world. I can fake it until I make it."
Li Jiahua, director of KAB Startup Education (China) Research Institute, who have met various young makers, summarized that the young generation have a relatively rich material life and are more interested in starting a business than making a living.
Lu Qiuping, director of the Entrepreneurship Office at Zhejiang University of Technology, found more entrepreneurs are immersed in the high-tech industry.
Entrepreneurs Are Their Projects' IP
The internet, which accompanied the generation aged from 19 to 28, is a gold mine of entrepreneurial experience.
With their own labels and proper marketing in line with the internet-oriented mindset, some of the founders themselves became known as web celebrities.
Jiang Yuan, 26, is now focusing on the big health industry of traditional Chinese medicine in southwest China's Yunnan.
She attributes the success of entrepreneurs of her age to energy, ideas and talent.
Thinking Twice
Pan Chengchen, a college student in Changsha, central China's Hunan province, has worked on nearly 10 entrepreneurial projects.
In the early stage of entrepreneurship, she chose to join multiple teams as a member. On the one hand, she learned team management from experienced seniors. On the other hand, she focused on the accumulation of professional knowledge.
Liu Heng is the founder of a tech company. Now he runs three companies and is setting up venture capital funds as an investor.
It has been five years since he started his business. These experiences taught him to constantly observe and reflect.
"In the early days, it was more a process of accumulation. To succeed, you must know your product well and develop it thoroughly," Liu suggested.
Entrepreneurial Education
At a recent national college student entrepreneurship training camp, Lu found most of the 120 young entrepreneurs from all over the country had taken entrepreneurial education.
Tu Dehu, director of Entrepreneurship Training Center in Harbin Normal University, advised that since basic entrepreneurship education is almost completed on campus, the next step is to pay more attention to special and personalized teaching.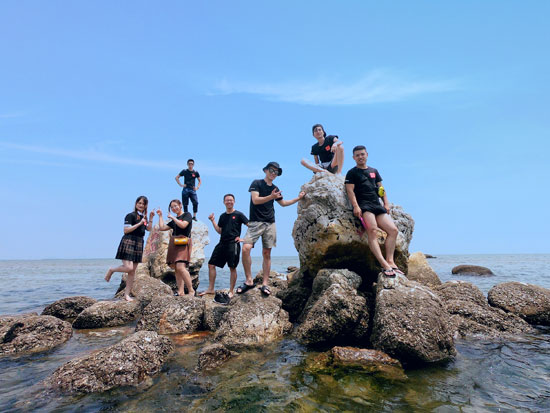 Xu Xin and his team [cyol.com]
(Source: cyol.com/Translated and edited by Women of China)