Wang Zhenjie paints a Monkey King head mold. [People.cn]
Monkey King, Kung Fu Panda and Captain America all appeared in a hospital in southwest China's Chongqing on Tuesday, Sept. 11. This is no cosplay show, but instead an ingenious way to make young patients more comfortable while receiving cancer treatment.
Every oncology inpatient has to wear a white head mold made of sturdy materials while undergoing three-dimensional conformal radiotherapy (3D-CRT). The mold is created in advance according to the specific size and shape of each head, to keep the patient as still as possible during treatment.
Such treatment is more accepted by adults, who understand the procedure and are therefore calmer, but some children find the experience terrifying, said Chen Ping, the head nurse of the oncology department of the Xinqiao Hospital, affiliated to the Third Military Medical University.
Previously, the medical team tried different ways to guarantee the smooth treatment of young patients, such as introducing tranquilizers or putting them under anesthetic. However, loud equipment always made the young patients feel on edge again as soon as they woke up.
A nurse named Wang Zhenjie decided, on a whim, to paint cartoon characters onto the white head molds. She bought paints and downloaded some pictures from the Internet, and then spent two hours completing the first cartoon head.
Chen said child patients loved the new head molds, thus reducing the fear of treatment. Additionally, the characters painted onto the molds are all well-known heroes to the children on the ward. Therefore, young patients become more confident, as they believe that their favorite characters are with them during treatment.
This idea is to be developed further, said the head nurse, and the next stage is to apply for the patent and promote the practice to a broader audience to help more children confidently fight their illness.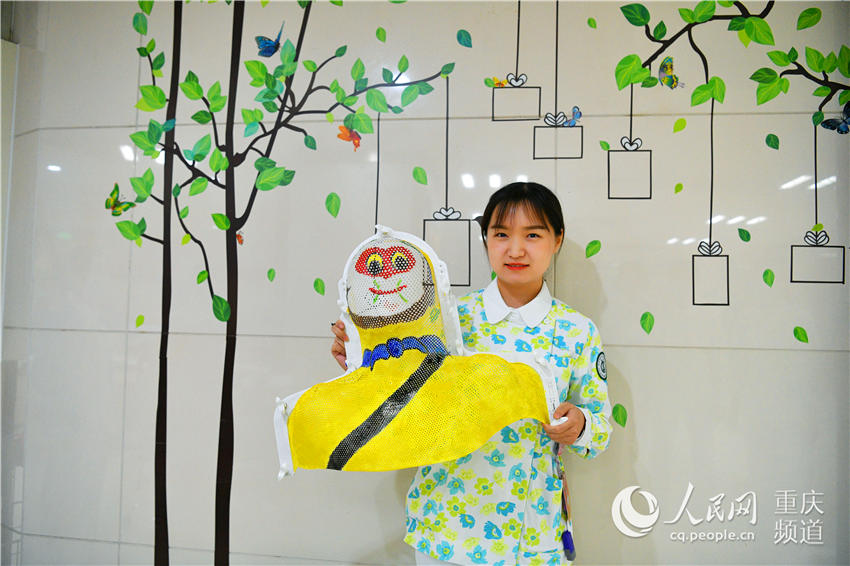 Wang Zhenjie shows the Monkey King head mold she paints. [People.cn]
(Source: People.cn)