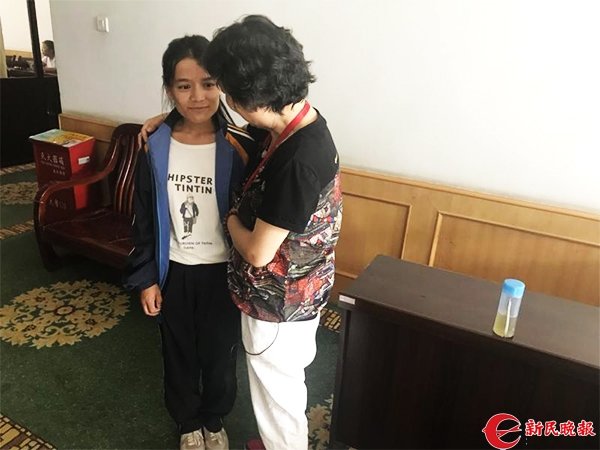 Liu and 13-year-old Haase [Xinmin.cn]

The 7th Shanghai Silver Action event recently took place in Kashi, northwest China's Xinjiang Uygur Autonomous Region, providing professional aid to people in western regions and underdeveloped provinces of the country.
Smiling Faces
As part of the project, Liu Hongdi, a retired doctor from Shanghai and Silver Action volunteer, developed a strong friendship with a 19-year-old Uygur girl, Haase Abylizi.
In 2012, Liu was a volunteer at the Kashi People's Hospital, providing medical assistance.
During a ward inspection, a shy Uygur girl rushed to her, and stuffed a piece of paper into her pocket, then slipped away.
Back at her office, she read the note and was moved to tears. It was written by the 13-year-old Haase, who was in the hospital for an ear infection.
She became a "fan" of Liu and she would follow Liu, observe her, and translate for her with broken Mandarin.
Not long after, Haase recovered, and she needed to leave the hospital. Then, she picked up all her courage and wrote that note.
In the note, she thanked the doctors who had come from afar, and also expressed her desire to take a photo with Liu as a memory.
The next day, Liu found Haase and took a picture with her, which started their friendship.
Many years later, Haase recalled, "I was fascinated by Liu at first sight. I love her smile, and I like kind, smiling people. Doctor Liu has cozy smiles, just like my mother!"
Connection
As two and half months of volunteer life in Xinjiang swiftly went by, during which they got along well and have become friends despite great difference in age. On the day of departing, they exchanged contact numbers and promised that they would see surely each other again if chances permit. By then, Haase has been viewed as a "Uygur daughter" in the eyes' of Liu. And, according, on Haase's cell phone contact list, Liu was referred to as the "Han mother."
In the next two years that followed, they have kept in touch on the internet.
Liu has shown deep concern for Haase's life and study, and has tried all she could to help her.
On the part of Haase, she became all the more curious about the outside world ever since she got to know Liu, which motivated her to work hard. Through her efforts, she has achieved notable progress in learning Chinese and can speak fluent Mandarin now.
In 2015, Liu was assigned to Yecheng County, another city in Xinjiang, as part of the Silver Action.
When Haase got the news, she decided to visit Liu in Yecheng, which was 48 kilometers away from where she was. She was a bit nervous and even frightened, as it was her first trip out of her hometown by herself. As long as she could meet Mother Liu, it was worth it for her, though.
This reunion was short, as several hours later, Haasse had to go back home. But she was content. It was a cherished memory to her, and she valued the affection between them greatly.
In the following three years, Liu spent two and half months every year in Kashi to attend Silver Action.
Wherever it took place, Haase would go there to meet her Han "mother". Though every reunion was short, her meeting with Mother Liu could make her joy last an entire year.
Affection
On August 8, 2018, the two met at the volunteer center.
Liu cried and bear-hugged Haase, repeating, "My Uygur daughter, I am so happy to see you again!"
Haase leaned on her, smiling sweetly.
Once a little chubby girl, Haase has now grown into a slender pretty young woman, whilst over these years Liu's hair has turned gray.
Currently, Haase is a senior student in high school, and Shanghai Foreign Language University is her college goal.
"I love mother Liu, so I also love the city of Shanghai where she lives," said Haase, "I want to go to a university in Shanghai, because my mother Liu is there," she added.
For many years, numerous Shanghai officials, experts and volunteers have served in Xinjiang, and have built deep affections with local people.
The wonderful story of the Han mother and her Uygur "daughter" has unfolded, and will continue to develop in the future.
Liu and 19-year-old Haase [Xinmin.cn]
(Source: Xinmin.cn /Translated and edited by Women of China)