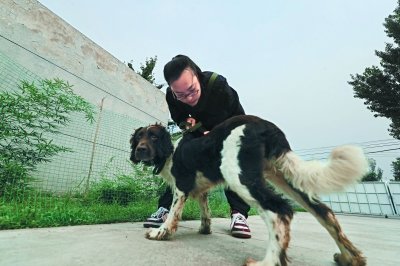 Hou Junjing and her police dogs [Beijing Evening News]
Hou Junjing, a policewoman from Beijing Municipal Public Security Bureau, has dedicated herself to training police dogs for the past six years to maintain public transport security.
Hou, 25, started in the auxiliary police personnel force in 2012, and then enlisted in the police dog brigade, which is responsible for aspects of rail traffic safety.
With the rapid development of rail transit in Beijing and frequent important events held in the capital, the security of rail transit has become a top priority.
Because of the arduous task and low income, only five among over 30 police dog trainers chose to stay in the past years.
During the initial course, trainers need to accumulate experiences and learn about dogs' characteristics, preferences and other features.
In daily activities, trainers pay attentions to minor changes of dogs, build relationships with them, and ultimately achieve a good cooperation with the animals.
Hou has trained four police dogs of different types, all of which worked in front-line security.
Hou has participated in major security tasks during events such as the so-called "Two Sessions" meetings and APEC. Since 2012, she has won several honorary titles.
In order to be more proficient at police dog training and grasp more knowledge, Hou applied to study at China Agricultural University and passed the entrance exam this year. She now majors in animal medicine.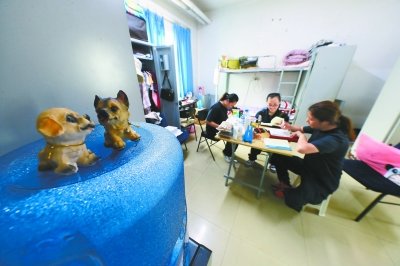 The female trainers hold a meeting to share their daily training experiences. [Beijing Evening News]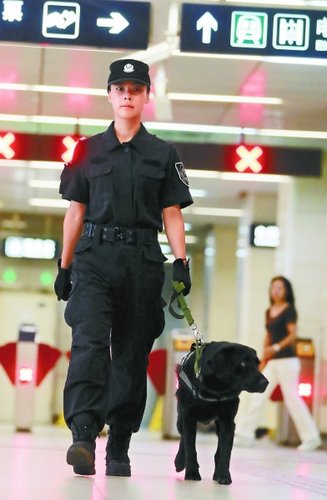 A trainer with a police dog [Beijing Evening News]
A female police dog trainer [Beijing Evening News]
(Source: Beijing Evening News/Translated and edited by Women of China)