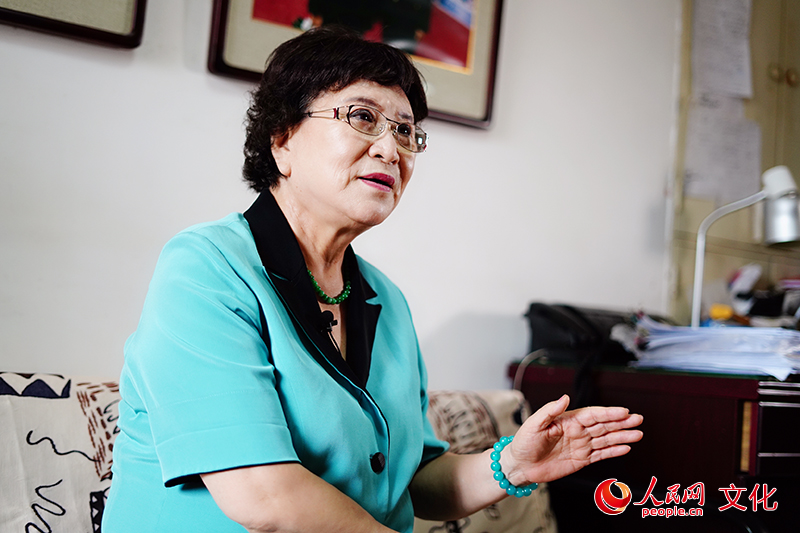 Liu Lanfang gives an interview with the reporter. [people.cn]
Liu Lanfang, a famous storytelling (or Pingshu in Chinese) artist, recently shared her personal journey on how she has presented the beauty of her art over the past 40 years since China's reform and opening-up.
Forty years ago, Liu became well-known through the popularity of her recording of The Legend of Yue Fei.
At 74, she remains active in the same field. "Whenever I hear the audience's applause, I feel I'm still young," Liu said.
A Blockbuster for 40 Years
When Liu was young, her mother told her stories about General Yue Fei, who was famed for his loyalty to serving the country in Song Dynasty (960-1279). At 16, she went to listen to a storytelling performance on The Legend of Yue Fei. After three years' study, she started to tell the tale by herself.
In the 1980s, Liu and her husband created a special version of the story for Liu's performance. They worked day and night and overcame numerous obstacles, including the shortage of materials and poor housing environment, to complete the work.
Stories of Moral Role-models
The Legend of Yue Fei effectively promoted the patriotism education movement in the past.
In recently years, Liu embarked on a national tour, telling stories of moral role-models to popularize the core socialist values and traditional virtues.
"The stories of moral models disseminate positive energy, just like my storytelling of ancient legends. Respecting teachers, the elderly and being loyal to your country are equally important. It's our responsibility to advocate positive energy and purify social consciousness in vivid language and fun stories," Liu said.
When performing, Liu is immersed in the role-models' touching stories, and urged by a dedication to follow their examples.
Prosperous Development
After the implementation of reform and opening-up policies, Chinese society is moving ahead steadily. Social changes and development have inspired Liu to explore various ways to perform for audience.
Nowadays, many people watch storytelling on television; some like to listen to it on the internet, as the storytelling artists have adopted new language and tales. They have created new stories with distinctive features of the time, Liu said.
Meanwhile, artists remind the young generation of historical lessons.
Liu said the reform and opening-up led to a dramatic change in storytelling. After The Legend of Yue Fei swept the country, storytelling stood out among several hundred kinds of local dramas and operas, and made storytelling a hit nationwide.
She says she wants to carry forward the traditional folk art, present more heroic spirits and characters, and help listeners to reflect and ponder in laughter.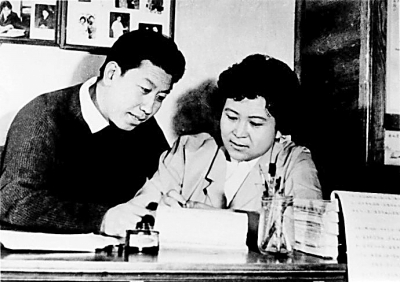 Liu Lanfang and her husband discuss how to create the storytelling version for "The Legend of Yue Fei."
(Source: whb.com/Translated and edited by Women of China)