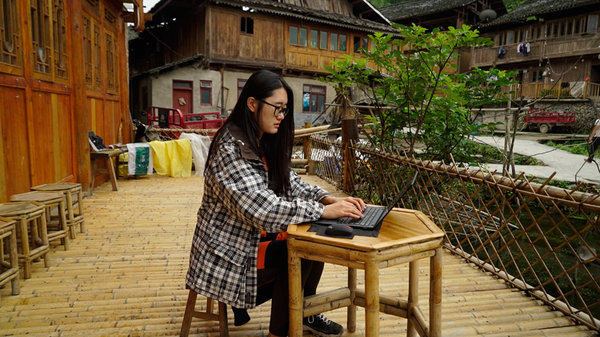 Xu Zhengxue, 28 [China Daily]
Xu Zhengxue was deeply attracted by the natural landscape of the 800-year-old Huanggang village when she visited it for the first time early this year.
When she heard the village was officially nominated to UNESCO to compete for recognition as a World Cultural Heritage Site in 2021, she decided to do something for the village.
The village of Qiandongnan Miao and Dong autonomous prefecture in Guizhou province is inhabited by the Dong ethnic group and it is one among those being slowly opened up for tourism.
Xu, 28, got the chance to work as an intern at the UNESCO Office in Montevideo for Latin America and the Caribbean after finishing her master's degree at Jilin University in Changchun, Jilin province, in 2016.
"During the office meetings, I often presented them the Korean ethnic culture, such as their costumes, food and characteristic and wine culture," she said. "I found they were quite interested in such ordinary things in my daily life."
"Therefore, after finishing the one-year internship, I decided to go around China, trying to get to know more about it," she said.
After she went back to her hometown in Yanbian Korean autonomous prefecture, Jilin province, she returned to the village when others were still enjoying their Spring Festival holiday.
After returning to the village, she began to collect information for submission to UNESCO to compete for recognition as a World Cultural Heritage Site.
"Before starting the work, I thought it wouldn't spend much time because there were abundant well-preserved cultures in the village," she said. "But when I started, I found it a difficult task due to the lack of written materials."
"The Grand Song, for example, is handed down through word-of-mouth from generation to generation because the Dong language has no writing form," she said. "However, there are less young people willing to learn how to sing in the traditional way from a very early age."
"Most of the Dong singers in the village choose to earn money by performing in other tourist areas in Guizhou and the nearby Guangxi province," she said. "Only old people and children are left in the villages."
"With the help of my alma mater, I have collected about 34,000 yuan for the Dong choir made up of young villagers," she said. "Now, 17 young singers have come back and joined in the choir."
"At the beginning, there were only three members, but we still preserved," Xu said. "Now more young villagers are choosing to return to their hometown."
"As a non-native, I can only try my best to provide support to the villagers," Xu said. "The heavy responsibility of cultural inheritance will ultimately fell upon themselves and I believe they can carry it forward."
(Source: China Daily)