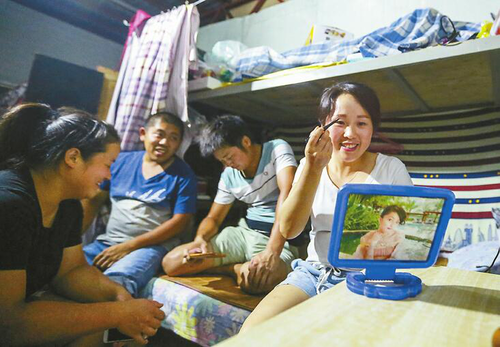 Guo Yuanmei, a construction worker, puts on make-up in her dormitory. [Jinan Times]
Female construction workers who come from Sichuan Province, southwest of China, and have chosen to follow their husbands to strive for a better life by working on construction sites recently shared their stories, according to a media profile.
On construction sites dominated by men, the heavy physical work and the inconvenient lifestyle have not scared women away, rather more and more women are found appearing on site.
These female construction workers want to accompany their husbands and share the burden for their families.
Liang Daxian, 41, a native of Tongzi County, southwest China's Guizhou Province, currently works on a construction site in Jinan, in east China's Shandong Province, with her husband.
Ten years ago, in order not to be separated from her husband, Liang entrusted her two children to their grandparents when the children were old enough, and followed her husband into the construction industry.
On Liang's construction site, 16 female workers are doing "man's job" just like her.
These female construction workers are aged from their 20s to 50s, but most of them are in their 40s.
They chose to do such work so that they can spend more time with their husbands and take care of each other.
Guo Yuanmei comes from the city of Zigong in Sichuan. She also works at the construction site in Ji'nan and now earns about 7,000 yuan a month, about the same as her husband.
Guo used to take care of their children at home, but after having their second child, Guo followed her husband onto the construction site to work as a skilled labor so as to earn more money for the family.
Luo Shanshan, a native of Chongqing, was born in 1994 and is a mother of two children. Three or four months ago, after a brief training session by her husband, Luo started working as a rebar worker.
Although she has not been working for long, the quality of her work is not inferior to that of a man.
In the dormitories of a construction site for the Qilu Gate Project, women can be seen coming and going from time to time amongst other construction workers from Hubei, Sichuan, Chongqing and other places.
Zeng Hui, from Sichuan Province, works as a carpenter on the construction site. After finishing work, she takes off her dirty work clothes and puts on a beautiful floral dress.
Although Zeng is nearly 50 years old, she looks much younger in her casual look.
On the construction site "women are used as men," but due to the physiological differences, women often face indescribable grievances and feelings of helplessness. Potential sexual harassment and physical inconveniences are particularly evident in hot weather.
Speaking of the implicit harassment, "Men walk around the neighborhood in their underwear during the summer to cool off. I found this very embarrassing. We have no choice but to hide or try not to leave the dorm," said Luo.
In addition, dealing with monthlies is also particularly difficult for women workers in hot weather.
Liang has lived on a construction site for 10 years. She believed that realistically women's various inconveniences could not be changed, so they have no choice but adapt themselves.
Being far away from home, with their children left in their hometowns, is perhaps the most important concern of female construction workers.
Liang and her husband go back to their hometown twice a year. One is the Spring Festival, and the other is a month before their children start school. "We're leaving for home in a few days. I miss my kids," said Liang.
Working mothers miss their children at home while wives staying at home miss their husbands working outside.
Since she was terribly missing her husband, Xiao Zeng from Chongqing flew to Jinan with their daughter to see him in April this year.
Like Xiao Zeng, many construction workers have had brief family reunions during the summer vacation.
Although they do not have time to see the city they are working for, female construction workers have dedicated their youth to urban construction.
Liang Daxian and her husband work at the construction site. [Jinan Times]
Zeng Hui takes her children to play in the living area. [Jinan Times]
(Source: Jinan Times/Translated and edited by Women of China)