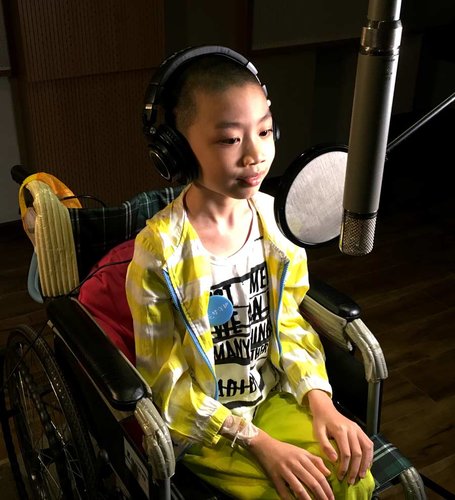 Lin Yuchen, 9, sings a song he wrote in English in Beijing on Tuesday. [China Daily/Xu Wenjun]
A 9-year-old boy from Fujian province with a potentially life-threatening bleeding disorder realized his dream in Beijing on Tuesday by recording a song in English that he wrote by himself.
Lin Yuchen completed his first English-language song in a recording studio with the help of Beijing Children's Hospital; Childream, an organization that helps children with major critical illnesses to fulfill their dreams; and Douyu, a popular online-streaming platform.
Yuchen was diagnosed with hemophilia when he was 1 year old in Zhangzhou, Fujian. Since then, his life has mostly been lived either at home or in the hospital because of swollen joints and the potential for internal bleeding.
"I was born different. I couldn't run. I couldn't jump. All day long, I lived under my parents' shelter," Yuchen wrote in his diary. "I watched other kids play games together through the window. I couldn't wait to join and laugh with them.
"When I was finally old enough to go to school, the unbearable pain of my swollen elbow and ankle forced me to say goodbye to the heaven of knowledge. Even my favorite things, singing and painting, became a luxury for me."
Wang Qiaolu, mother of the music-loving boy, said that he was extremely sensitive to music when he was a baby. Every time he heard music, he giggled and wriggled, she said.
"When he was about to attend kindergarten, we played music for him on the computer at home. He was able to learn every song after just a few times and could even write down the lyrics," Wang said.
After Spring Festival in 2017, his parents decided to travel over eight hours from Zhangzhou to Beijing every month for better treatment. During Yuchen's stay at Beijing Children's Hospital in June, he wrote his first song, Sunshine, in English, which he had learned on his own.
"The doctors heard about Lin and got in touch with us to see if we could help the boy fulfill his dream. So we turned to Douyu, and together we invited a professional music producer and arranged a recording studio for him," said Xu Wenjun, the founder of Childream.
"Sunshine always comes after the rain," Yuchen's lyrics say. "There is no smooth sailing in life. But if you let yourself run in the rain, you'll find a door open for you."
He said, "I wrote this song to encourage kids with hemophilia like me. I want them to know there is always sunshine and hope in this world."
(Source: China Daily)