Yang proposes to Liao. [Women Voice]
An elite soldier of the Chinese People's Liberation Army (PLA) Hong Kong Garrison recently surprised his wife by organizing a memorable, proposal reaffirmation ceremony for her at his training barracks in Hong Kong.
Yang Zhenyu, a soldier from the Guard of Honor of the PLA, officially married his wife Liao Bingbing in March. However, at the time, Liao expressed her regret that she had not been proposed to during a special occasion.
Therefore, Yang organized an unforgettable ceremony for Liao to make it up.
That day, members of the Guard of Honor were training vigorously as usual. Liao went to visit her husband, but did not know what would happen next.
As she was chatting with female soldiers, she had unwittingly been led to the center of the training ground.
There, all the soldiers suddenly stopped training and surrounded Liao. Meanwhile a big screen in the background began to play a video in which Yang expressed his love to Liao.
Confronted with the surprise, Liao was moved to tears. Yang soon appeared with a flower in his hand and presented it to her with a standard salute.
Yang showed his medal of honor to Liao and said: "This is the honor I received, and I know that you have also greatly contributed to my achievement."
"Furthermore, I want to express my gratitude for your company over the past six years, and I want to spend the rest of my life with you," Yang added.
When Yang "proposed" to Liao, she said whilst crying: "Yes, I do."
Liao is a teacher, and the pair have been together over the course of six years, through sweet times and difficulties.
The battalion commanders and instructors were also present at the event to express their good wishes to the couple, and expressed their respect for such military spouses.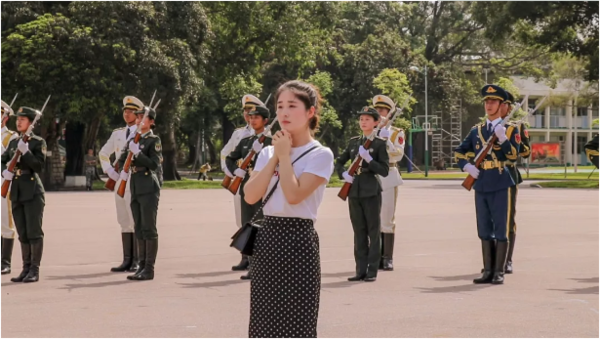 Liao watches the video of her husband. [Women Voive]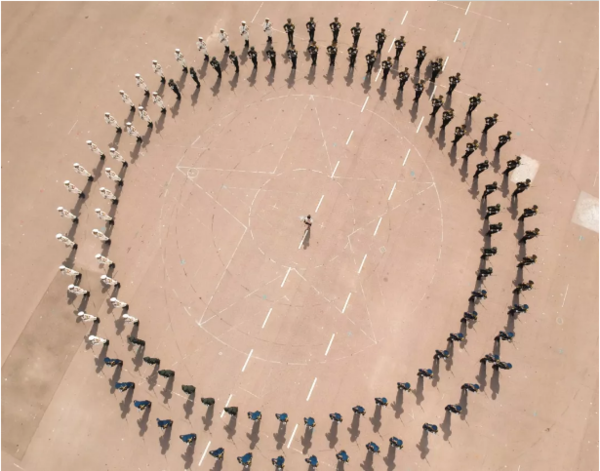 Liao is surrounded by soldiers. [Women Voice]
(Source: Women Voice/Translated and edited by Women of China)