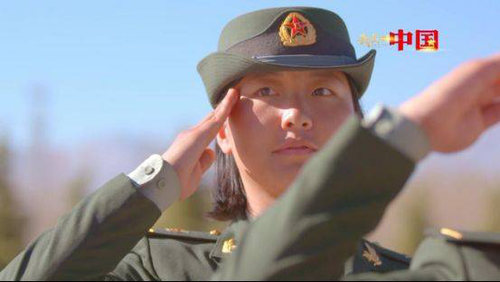 Yuan Yuan [China Daily]
The leader of the first all-female artillery detachment in Tibet Military Region was widely praised by netizens on April 28 after she was featured in the documentary I Love You, China (Military Part), broadcast nationally.
The documentary was made in response to President Xi Jinping's recent remarks proposed in the report of the 19th National Congress of the Communist Party of China (CPC), which mentioned "We will make military service an occupation that enjoys public respect."
The first episode described the experience of the young squad leader working in southwest China's Tibet Autonomous Region. Yuan Yuan, 22, is known as the "Flower of the battlefield".
She was originally admitted to the air crew course at Chengdu University of Electronic Science and Technology. However, less than a month after enrolling, she chose to go to Tibet to pursue her military dreams instead.
The artillery training consumes so much of her physical energy that nowadays Yuan can eat 20 steamed stuffed buns in one meal.
Yuan's face and hands are rough due to hard training conditions. But her performance in the army is just good as the male soldiers, says a colleague.
Because of the special characteristics of military professionals, Yuan and her boyfriend of four years were separated for a long time. Her boyfriend suggested she leave, but Yuan decided to stay with the unit.
One day, Yuan's military group received order from the superiors to participate in an emergency drill. It was so urgent that they had no time to inform their family before setting off. They could only write a letter whilst on the training mission.
She wrote home with the words, "Don't worry about me. Your daughter is fighting for the country!"
Her letter revealed the pride of a soldier though facing full of unknown danger. In her opinion, the best way to be young is to fight in battle as a soldier.
In the end, Yuan led the female artillery detachment to complete the live ammunition drill successfully in just 18 minutes.
On March 5, the first meeting of the 13th National People's Congress (NPC) was held in Beijing. Yuan participated in the conference as the youngest deputy.
After the meeting, Yuan said, "What President Xi said about perseverance and firmness in the border defense of the motherland, and the inviolability of our territory, has strengthened my ideals and made me devoted to our country. "
Yuan Yuan in the documentary "I Love You, China" [China Daily]
(Source: China Daily/Translated and edited by Women of China)