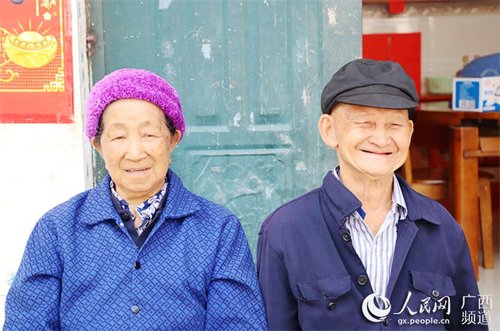 Liu Guishu (L) and her husband Zhu Zhirong (R) [People's Daily]
Liu Guishu, a new centenarian from Lingyun County in South China's Guangxi Zhuang Autonomous Region, together with her husband, 101-year-old Zhu Zhirong, attracted the public's attention recently for their touching, long-lasting love.
They tied the knot in 1940 and have lived in harmony during their 78 years of married life. They have raised four generations, with 67 people in their extended family in total.
"The two elders always support and care for each other in their daily lives," said Yang Cai, one of their daughters-in-law.
Liu likes eating light and soft food on weekdays, but her favorite food is that made by her husband.
"My father-in-law walks about 3 kilometers to the bazaar in the town to buy food and cook for my mother-in-law every day. It's so nice to be loved like her," said Yang, who shows her admiration of their love.
The elderly couple came from different villages and fell in love with each other after a blind date.
Zhu didn't have any chance to see his bride, not to mention talking with her, even though they were engaged for 10 years.
After they got married, Zhu always had the final say at home. He is a well-known craftsman in carpentering, masonry and stone cutting. Due to his good reputation, villagers unanimously recommended him as a village official.
When Zhu was in his 70s, he personally made himself and his wife a headstone but has happily left them unused for the past 30 years. Whether doing art work or being a village official, Liu always supports her husband.
Even though they are over 100 years old, the couple still share a room and take good care of each other.
Liu trusts her husband very much and always stands by him in no matter what circumstances.
"The key for our family's happy co-existence is democracy. Arguing cannot solve differences, so we need to find peaceful solutions," added Zhu.
Their sons and daughters-in-law also attribute the harmonious relationship among the whole family to the good example set by the centenarian couple.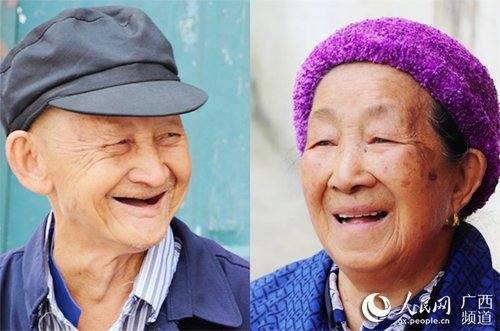 Zhu Zhirong (L) and his wife Liu Guishu (R) [People's Daily]
Liu Guishu (L1) and her husband Zhu Zhirong (L2) talk with reporters. [People's Daily]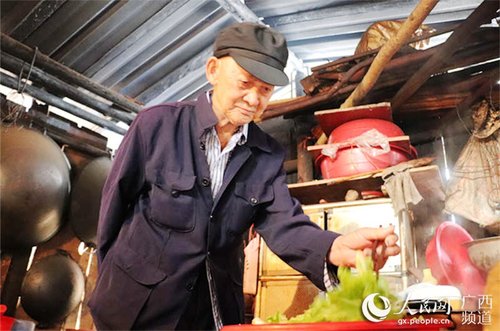 Zhu Zhirong [People's Daily]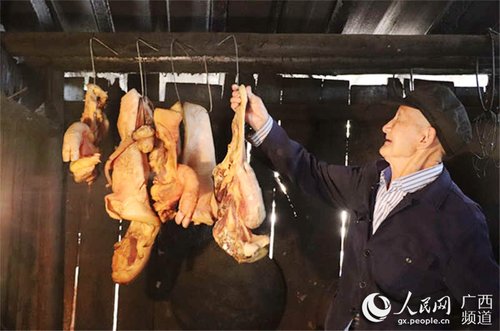 Zhu Zhirong [People's Daily]
Zhu Zhirong (F) [People's Daily]
Zhu Zhirong walks about 3 kilometers to the bazaar in the town to buy food for his wife. [People's Daily]
(Source: People's Daily/Translated and edited by Women of China)