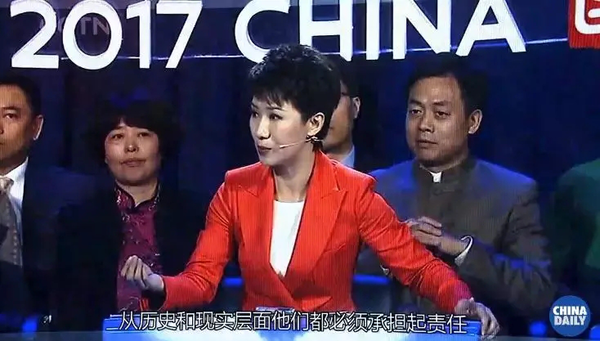 Liu Xin gives a speech ahead of the 9th BRICS Summit in Xiamen, southeast China's Fujian Province. [Photo/China Daily]
Chinese news anchor Liu Xin delivered a speech on international communication in the new era on January 22, giving her opinion on its challenges, opportunities and responsibilities.
Liu, who works at China Global Television Network (CGTN), was a winner of the World English Speech Contest held in London in 1996.
In that speech, "The Mirror and I", Liu Xin told the story of her life in comparison with her grandmother's. "It was the first time the judges had heard from a Chinese university student who had grown up in the time of Reform and Opening Up," Liu recalled.
The victory kick started her 20-year-long career as a journalist. Liu has since worked on the front line many times, and has witnessed, interpreted and confronted numerous prejudices, mistakes and misunderstandings from the West when reporting on her country, she explained.
Liu Xin started her latest speech by saying: "I know who I am and what I am to confront in the New Era."[Photo/China Daily]
Challenges
Liu started her latest speech by saying: "I know who I am and what I am to confront in the New Era."
Because of ideological differences, China has often been the subject of criticism by media in the West, Liu said.
She argued that China has also been a scapegoat for some of the domestic policy failure in other countries. The loss of jobs in the U.S., for instance, has been squarely blamed on Chinese competition in the mainstream U.S. media.
Politicians then put unfair pressure on China in an effort to score domestic political gains, reinforcing the public's skepticism and misunderstandings about the country, she added.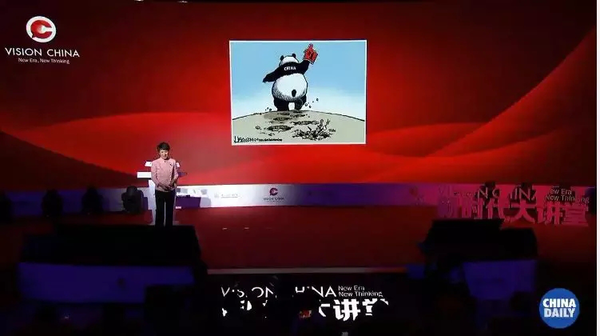 "In every crisis lies an opportunity," Liu Xin stated. [Photo/China Daily]
Opportunities
"In every crisis lies an opportunity," Liu stated.
The opportunity is that the world is increasing their understanding and trust towards China and they are eager to hear more, which proves a good time for the Chinese media to air their voice.
Liu was invited to return to Beijing from overseas in 2016 to be a host on CGTN when it was established under President Xi Jinping's guidance.
"The image of the country in the eyes of adults aged from 18 to 65 in 20 countries has continued to improve over the past years ," Liu said, quoting recent figures.
An independent survey indicated that China's image in developing countries is considerably better than in developed countries.
That trend has been reinforced over the past year. According to a latest Gallup poll, more people in the world approved of China's leadership than the U.S. leadership in 2017.
Specifically, the average approval of the U.S. leadership has dropped to 30 percent, trailing the 31 percent cited for China.
Just days ago, George Weah, the new president of Libya, spoke of China and expressed thanks in Mandarin at his inauguration speech.
Why has China been winning more hearts on the world stage, especially in developing countries?
Liu said the answer lies in China's transformation. President Xi said in the report to the 19th National Congress of the Communist Party of China that, "China offers a new option for other countries and regions who want to speed up their development while preserving their independence; and it offers Chinese wisdom and a Chinese approach to solving the problems facing mankind"
"For decades, developing countries have had little choice in their development path, opening up their domestic markets and industries and exposing themselves to periodic crises and financial risks.
"Traditionally, people have relied on just a handful of correspondents or experts for information and opinions on China. Increasingly, however, that bottleneck is opening up. People are eager to hear more from China itself," Liu explained.
Responsibilities
In the days of increasing competition for discourse among the international media, how should Chinese journalists do their job?
First, they must find the right ingredients, which Liu calls "facts". Fact-finding is essential as it forms the foundation of opinions.
The hardest part is to find facts. Liu said she asks herself all the time: "Am I being fair? Nationalistic? Too ideological?"
At the conclusion of her speech, Liu reiterated the importance of objective reporting without whitewashing and bravely admitting one's own imperfections.
(Source: China Daily/Translated and edited by Women of China)