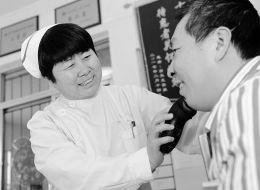 Li Huiping (R) and a patient [Shanxi Evening Daily]
Providing daily care to mentally ill patients is often tiring and challenging, but Li Huiping, a nurse from north China's Shanxi Province, has stuck diligently to her post for over 22 years.
Li, 44, has wholeheartedly taken care of 40 male patients at a hospital in the city of Taiyuan.
After graduating from nursing school in 1995, Li worked at the hospital, responsible for attending to male mentally-ill patients.
When she took up her post at first, Li said she found that there was a great difference between expectation and reality. She suffered a near-fatal encounter just days after she began, which took her a great deal of time to overcome the memory.
Li was on night duty one day, when a new patient followed her and grabbed her tightly by the neck. Frightened, Li used all her strength to get away. Luckily, one of her colleagues heard the scuffle and hurried to save her.
Meanwhile, the male nurse was badly hurt in the course of helping Li, and sustained an injury to his hand.
Li said, "I dared not to be on duty alone due to this case for a long time."
Later, the patient made an apology to Li. Her pity for the patient's plight has strengthened her determination to stick to her post.
Aside from this incidence, Li feels heartened when elderly people give her piles of scrap paper and say, "This is your gift money; use it to buy some snacks. Do not tell other people. It is only for you."
Carrying the scrap paper, Li could not hold back her tears. "The seniors have always regarded me as a family member. It is a kind of dependence and recognition. The affection is rather valuable."
Li said she feels relieved each time patients say sweet words to her when she takes care of them. "Everything is worth doing for them."
(Source: Shanxi Evening Daily/Translated and edited by Women of China)