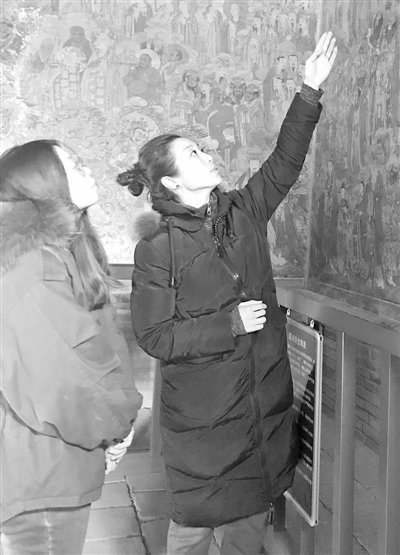 Wu Yuhong (R) explains a mural painting to a visitor. [Hebei Worker's Daily]
A tour guide has been explaining mural paintings to visitors at the Pilu Temple Museum in the city of Shijiazhuang, north China's Hebei Province, for over 20 years.
Although she has described the wall paintings countless times, Wu Yuhong, in her 40s, is still full of great passion for her work.
Wu said her witty style of narration has helped visitors gain a clearer and deeper understanding of the art.
Around 20 years ago, Wu's father took her to visit the temple. She was deeply attracted by the ancient pictures the first time she saw them. At 18, she served as an interpreter at the temple for her internship whilst at university.
Aside from receiving visitors, Wu would concentrate on researching each mural one by one in her free time. With her past 14 years of persistent efforts, she finally published a book titled Expression of Pilu Temple, with 50,000 yuan (U.S.$ 7,632) of her own savings.
Faced with her family's dissatisfaction and other colleagues' misunderstandings, Wu was still determined to achieve her goals and said she hopes to do more to preserve the art in her lifetime.
Over the years, Wu claimed that she has gained a clear idea of each element in the wall paintings at the temple.
Years ago, she started to learn to paint murals herself. She said that only when she learned to paint could she get to know the stories behind the artifacts properly. She also used to carry her one-year-old daughter as she gave lectures.
Wu concluded that she is relieved that more and more people have paid attention to the temple and the beauty of the paintings.
Speaking of her future career, she said that she hopes to help preserve the art for the rest of her life.
(Source: Hebei Worker's Daily/Translated and edited by Women of China)