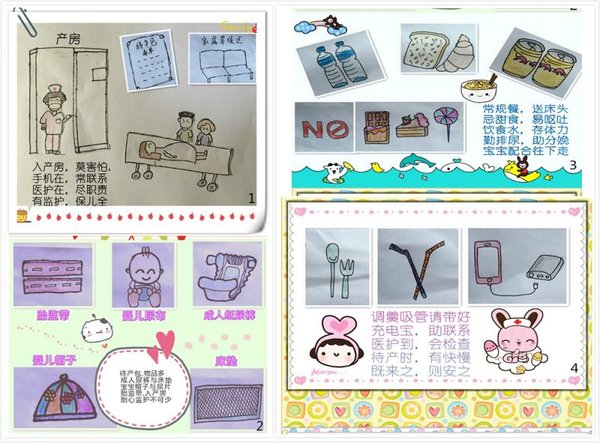 Zhang Xin has drawn a collection of cartoons with illustrations to serve hearing-impaired mothers-to-be in their childbirth. [Provided by Shanghai First Maternity and Infant Hospital]
A young nurse from east China's Shanghai went viral online recently with her handwritten cartoons giving tips to hearing-impaired mothers-to-be during the entire process of childbirth.
Zhang Xin became a midwife in Shanghai First Maternity and Infant Hospital when she graduated from college in 2014.
Although Zhang hasn't ever been involved in providing deaf-mute pregnant women with medical assistance in childbirth, she has learnt from her colleagues that there are numerable difficulties in helping those physically-impaired women and their families make better preparations and winning their cooperation in the process of delivering a baby with medical staff.
Hearing-impaired pregnant women are often inclined to be more worried about their upcoming childbirth since they cannot clearly exchange their views with doctors and midwives while their family members sometimes fail to act as "translators" in the process.
Therefore, Zhang came up with the idea to draw a collection of cartoons to solve the problem. Her proposal received wide support from her colleagues.
She has now finally completed the work, which includes ten vivid cartoons with illustrations.
She hopes hearing-impaired pregnant women can find useful information about how to prepare necessary products for their childbirth, follow the instructions of medical staff in the process of giving birth to a child, and take care of their newborns after delivery.
So far, Zhang's work has proved to be a great success since it came into service in the western branch of her hospital.
According to the hospital, it will make a further improvement of the cartoons, introduce a bilingual version for the interests of targeting foreigners in Shanghai, and promote the work in all its three branches in the near future.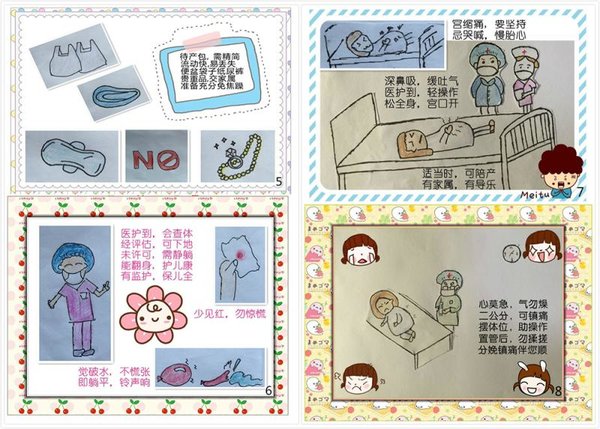 The cartoons produced by Zhang Xin [Provided by Shanghai First Maternity and Infant Hospital]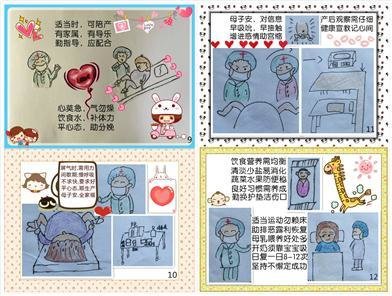 The cartoons produced by Zhang Xin [Provided by Shanghai First Maternity and Infant Hospital]
The cartoons produced by Zhang Xin [Provided by Shanghai First Maternity and Infant Hospital]
(Source: thepaper.cn/Translated and edited by Women of China)